When Cleveland Clinic needed to renovate its campus in Weston, Florida, moisture mitigation for their concrete floors was at the top of plans to create a safe and hygienic environment for their patients, visitors and staff.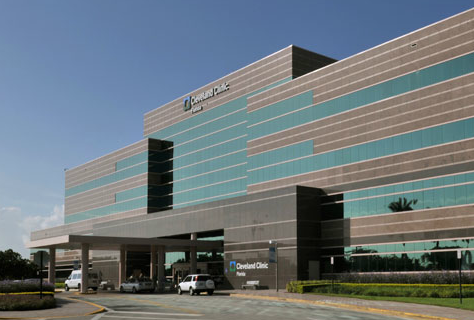 Concrete Vapor Barrier Systems for Medical Facilities
Concrete floors require special attention for any new construction or renovation project at hospitals and medical centers. To mitigate moisture and strengthen concrete, slabs undergo special preparation prior to installing and finishing cement, tile, carpet or epoxy resin systems.
Without the proper concrete vapor barriers in place, floor coverings may fail or even increase the risk of mold and mildew growth. Even more importantly, medical facilities typically cannot shut down their operations to allow time for traditional concrete to dry and cure. That's where moisture mitigation expertise becomes necessary for fast track construction projects that require quick drying of concrete.
Specified Surfaces and PSI Inc. provided the concrete experts and products to control moisture and balance concrete alkalinity.
---
Moisture Mitigation Project Details
Project: Cleveland Clinic FAST TRACK NICI
Client: Cleveland Clinic, 2950 Cleveland Clinic Blvd, Weston, Florida, 33331. Broward County.
Contractor: Turner Construction Company
Flooring Contractor: Resource 4 Floors
Subcontractor: PSI Inc., Fort Myers, Florida. View contact information.
Floor Installation Systems Supplier: Specified Surfaces, New Smyrna Beach, FL. View contact details.
Project Size: 102,000 sq. ft.
Flooring Project: The medical center needed concrete moisture mitigation so that their renovation construction plans could proceed on schedule with limited downtime.
Concrete Moisture Control Products by Mapei:
Planiseal MVR – High performance epoxy moisture barrier for concrete substrates. Used for concrete slabs that exhibit high moisture vapor emission rates. Penetrates into substrate while at the same time creating a solid layer to reduce moisture transmission.
Primer T – General purpose primer for self-leveling underlayments. Enhances adhesion on non-absorbent surfaces such as tile and epoxy moisture barriers. Also works for absorbent surfaces and suitable for multiple substrates. Low odor and easy to apply.
Novoplan 710SL Specialty Underlayment at 3/16" – High strength & quick cure self-leveling cement underlayment for interior concrete floors.
Scope of Moisture Mitigation Service:
Mechanically prepare concrete. Surface preparation includes clean and repair as well as grinding.
Apply Planiseal MVR.
Apply Primer T.
Apply Novoplan 710 SL.
Supervision