Concrete & Epoxy Flooring
Experts


(971) 803-3430

Stained, stamped, epoxy or polished concrete floors in Oregon - Call Us Today!

Discover how concrete & epoxy floors
can transform

 your home or business
DECORATIVE CONCRETE FORMS
We offer a beautiful range of concrete floor options like elegant Epoxy Floor Coatings, low to high gloss Polished Concrete, expert Concrete Resurfacing, and skillfully applied decorative stains result in a gorgeous floor.
CONCRETE FLOOR ARCHITECTURE IN McMinnville
Locating the right contractor for a job is usually hard and can be drain on your valuable time. Fortunately, you landed here for a reason. We offer top quality concrete flooring solutions within reasonable budgets.
CALL US: WE SERVE MAJOR CITIES IN Oregon
We are proud to specialize in polished, epoxy, stained stamped concrete floors. We're the proven experts in residential and commercial concrete flooring applications. Don't hesitate to call Metrocrete for an estimate.
QUALITY SATISFACTION GUARANTEE
We promise to match or exceed your installation timing expectations and budgetary requirements, as well as your craftsmanship and service expectations. We're pleased to make this guarantee because we have confidence in our performance.
Stamped Concrete
Flooring
Stamped Concrete can make a plain slab look elegant and colorful. Often, it's applied over existing unattractive concrete, on outdoor or indoor areas, upgrading backyard entertainment areas, around a pool or even a sitting area near the barbecue or eating area. Stamped concrete supplies a vast medley of textures and colors The experienced pro uses an accent pigment for color which also displays an artistically pleasing design. Various patterns and textures are available for your choosing. The selection of styles and patterns may be natural stone slabs as well as seamless granite or limestone. When including stamped concrete. it creates a more pleasing and attractive element to your home.
Read more about stamped concrete flooring….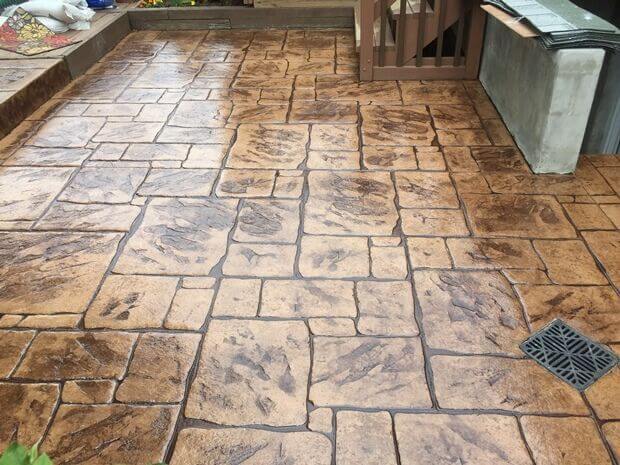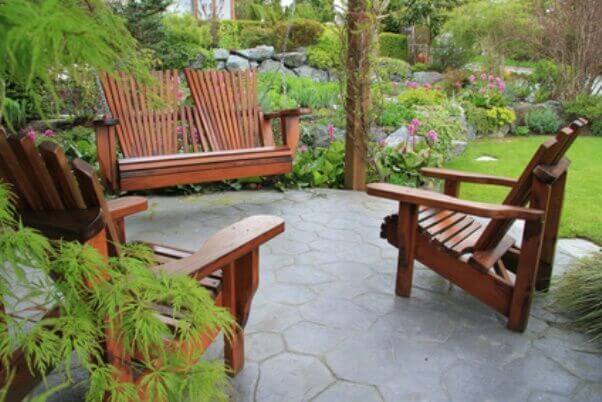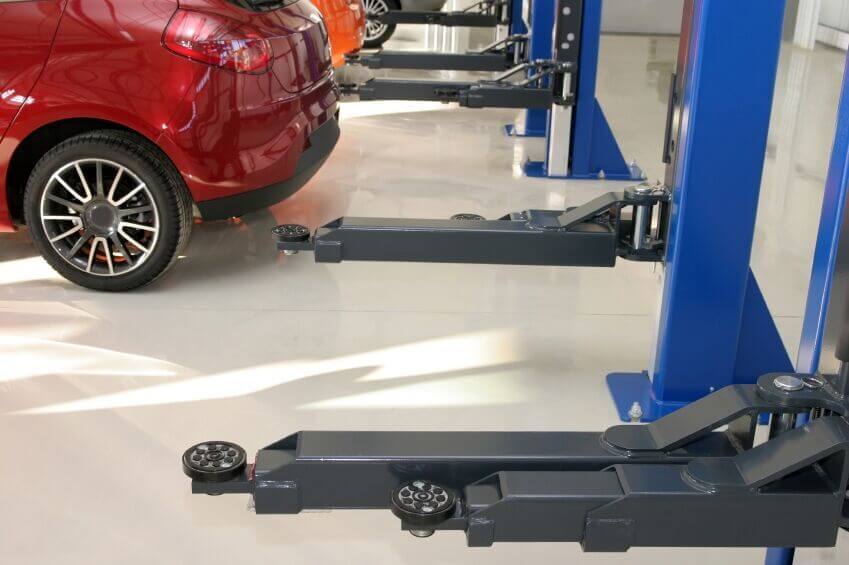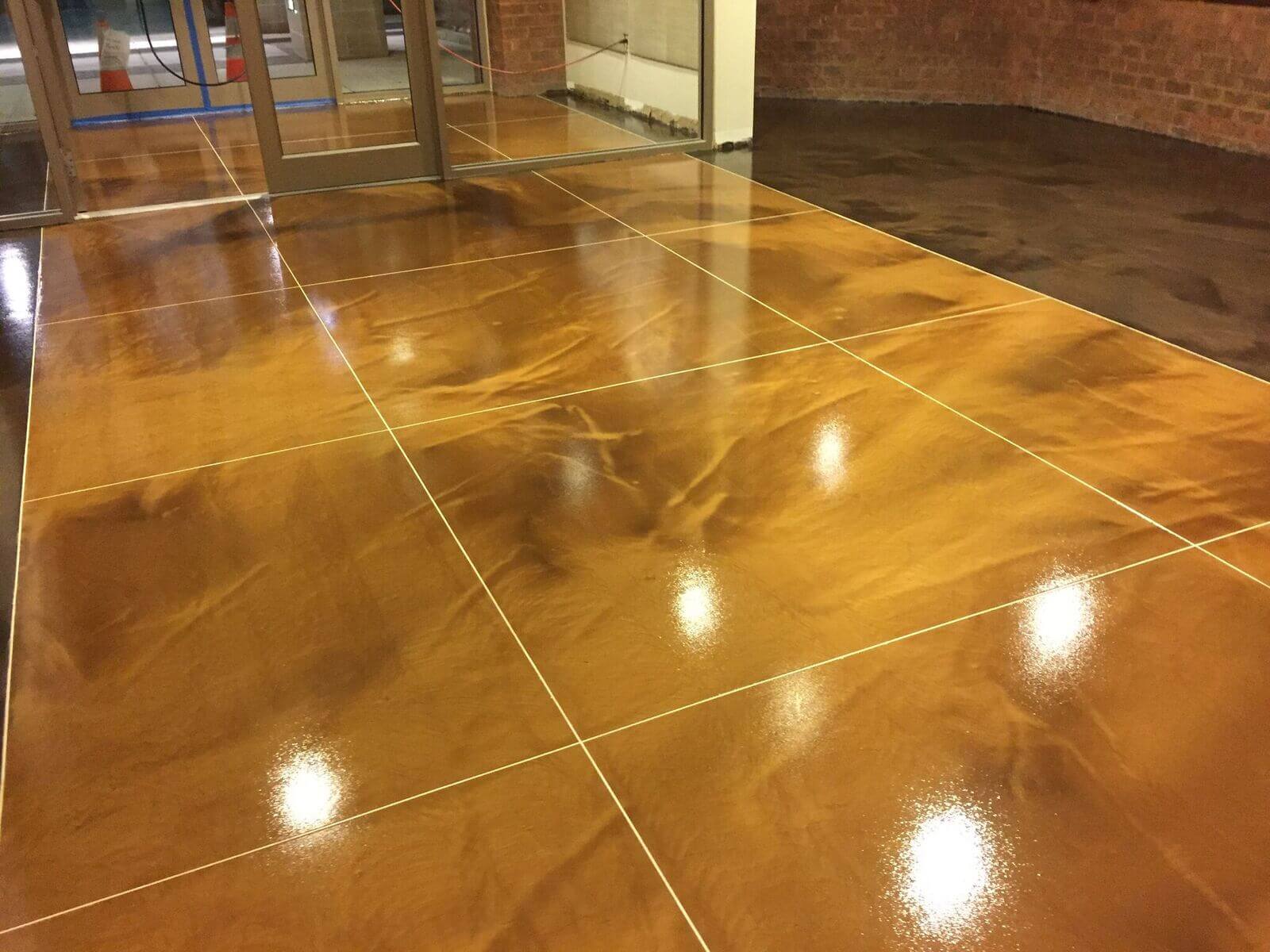 Epoxy floor covering types include coatings and paints, resulting in not just an artistically pleasing floor, but practically everlasting engineered resistance against wear and elemental damage of concrete. Any questions? Call us in McMinnville. Epoxy Flooring types range from very thin paints to thick stratified layers of chemical resistant coatings. A hardening agent, when combined with a resin make up epoxy.
It's most often paired with urethanes or polyaspartics as the top coat. From simple elegance to artsy expression in your flooring, appraise the wide range of magnificent color options created through the use of sand, quartz and color chips. Epoxy Floors installed by Metrocrete in McMinnville can be found everywhere, including in commercial kitchens, warehouses, dog kennels, laboratories, loading docks, basements, health care facilities and the list goes on and on.
Polished Concrete
Flooring
A polished concrete flooring application will incorporate the same polishing and sealing approach as epoxy floors – except that buffing concrete refines the cement so once sealed its finished in a gloss, semi-gloss or matte finish. Color stains can be used on polished concrete floors, in natural green and brown tones found in nature and also in magentas, indigos and yellows. There are a number of color options.
A similar appearance to polished concrete can be accomplished by using decorative concrete overlays, where the finish is more easily controllable in application and end result. The use of self-leveling concrete for this application, results in an uninterrupted, elegantly flawless surface, frequently found in galleries, showrooms, and museums Find these floors in shopping centers, bowling alleys or anywhere you find a large flooring area.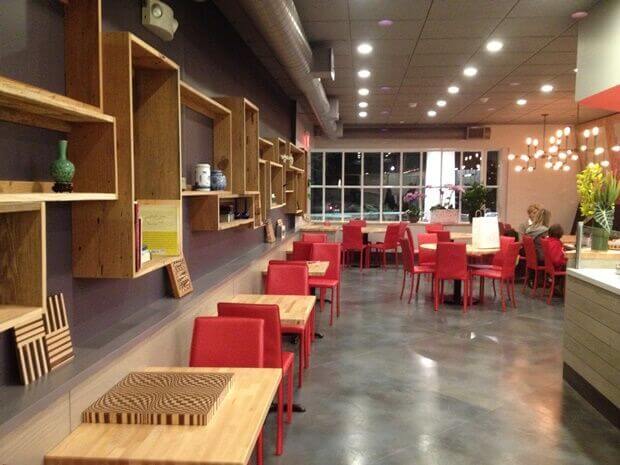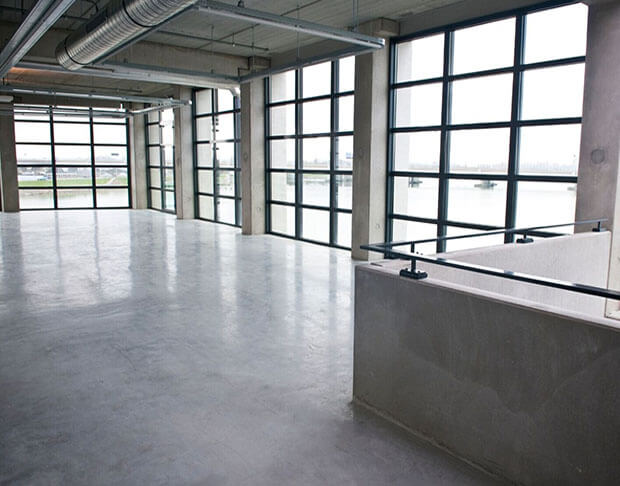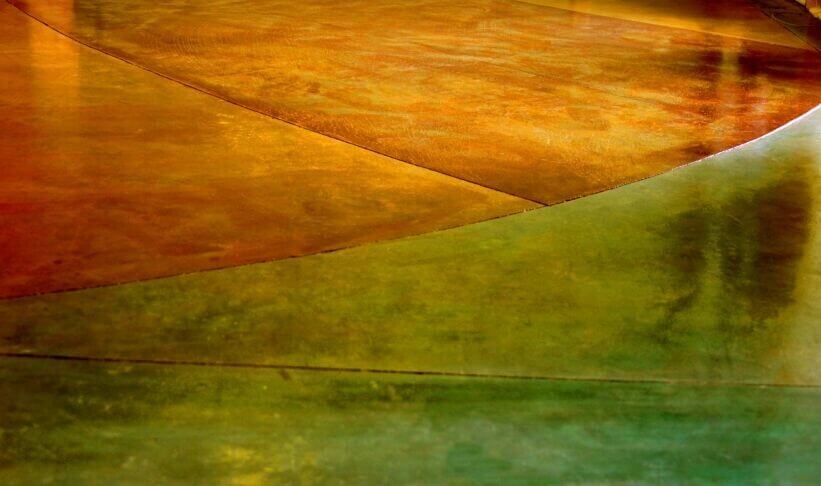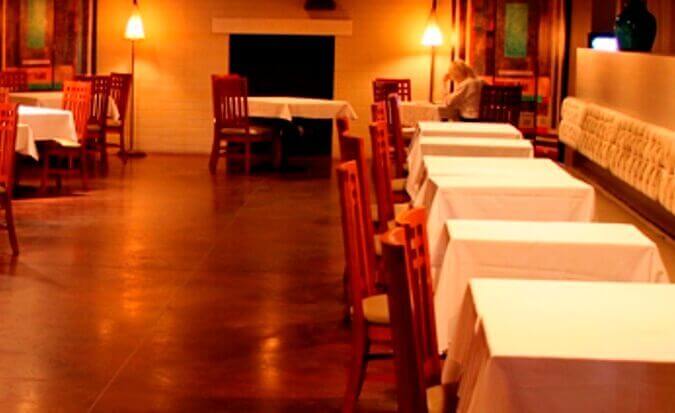 Stained Concrete 
Flooring
Stained concrete floors are one of a kind, low maintenance flooring surfaces which are ideal for residential use. Architects call for their use in modern, open concept or more traditional home styles. Homeowners will choose one of two color application methods, which can result in various unique looks. It depends what is appealing but both will offering divergent results you're sure to enjoy.
Architects will often call for a leathery look using acid stains in various earthy tones – then stains or dyes can be introduced for additional visual interest of the floor's surface. More uniqueness can be created with shallow cuts resulting in any variety of mosaics, bricks or custom tiles. Then the surface is stained in a variety of colors. Stains and dyes enhance any concrete work including decorative overlays, polished concrete or even grind and seal work. Specialists then apply urethane sealers or epoxy coatings for added strength and protection.
Find out more about stained concrete flooring….

McMinnville, Oregon
Yamhill County: 97128
Save Save Save Save Save Save Save Save Save Save Save Save Save
States & Cities We Service

(click on state below to see cities)