Concrete & Epoxy Flooring
Experts


(971) 803-3430

Stained, stamped, epoxy or polished concrete floors in Oregon - Call Us Today!

Discover how concrete & epoxy floors
can transform

 your home or business
CONCRETE FLOOR PRODUCTS IN Corvallis
Finding the right contractor for a job can be often frustrating and takes a lot of time. We promise excellent customer service, quality products and installations that are on time and on budget.
We are top tier contractors in stamped concrete floors, epoxy and stained stamped flooring. Local and experienced experts in commercial/residential concrete floors. Don't hesitate to call Metrocrete for an estimate.
CAPTIVATING CONCRETE LAYOUTS
Revel in our broad collection of concrete flooring options like rugged Epoxy Floor Coatings, radiant Polished Concrete, skillful Concrete Resurfacing, and decorative stains make for a unsurpassed flooring experience.
QUALITY SATISFACTION GUARANTEE
We'll meet or exceed your installation time expectations, budget constraints, as well as your expectations in terms of service and quality of craftsmanship. We're confident in our abilities, so we can make this promise to you.
Polished Concrete
Flooring
A polished concrete floor application will share the same grinding and sealing process as epoxy applications – except for the fact that buffing concrete hones it into a shiny, semi-shiny or matte finish. A similar appearance to polished concrete can be gotten with decorative concrete overlays, which have a more easily controlled finish in an application.
Once mixed, self-leveling concrete must be applied quickly, and results in an expansive, blemish free area like those seen in museums, auto showrooms and banquet halls. You'll find this type of flooring in shopping malls and franchise locations also. Color pigments may be used on polished concrete floors, and applied in a variety of green and brown earthy shades as well as in magentas, indigos and yellows. There are a number of color options.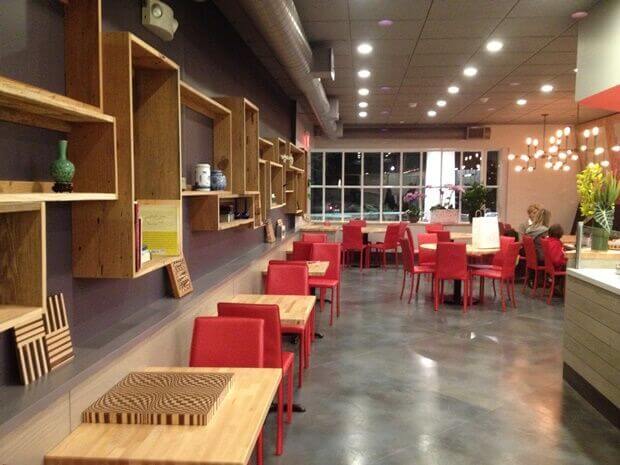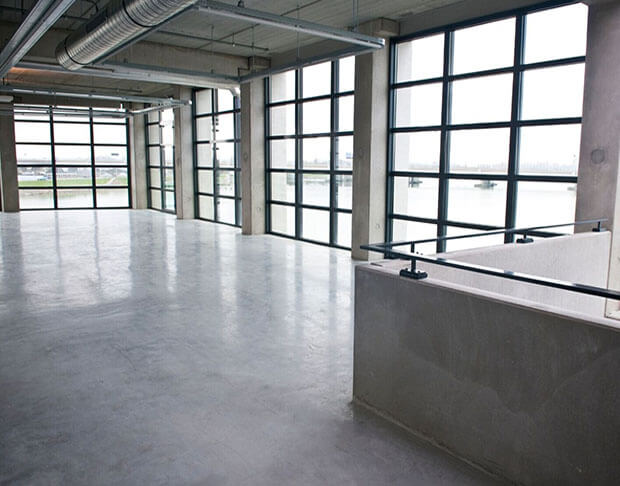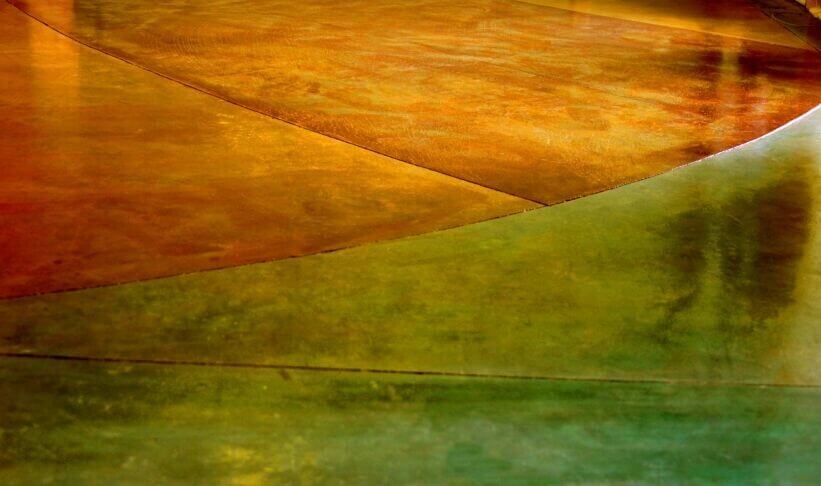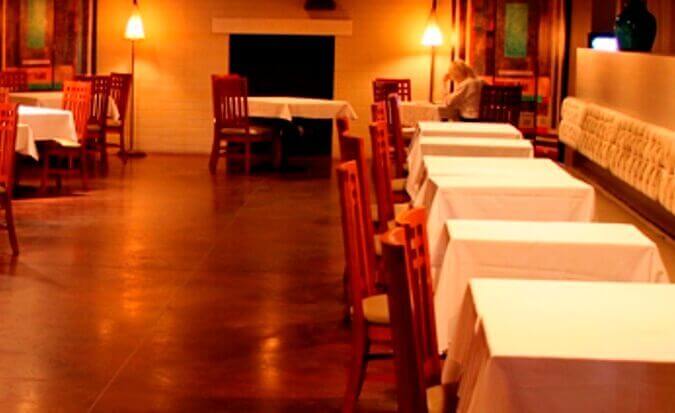 Stained Concrete 
Flooring
Stained concrete floors offer quintessential flexibility while offering a broad range of uses. Perfect for restaurants, retail, corporate offices or even in residential houses. Decision makers can choose from two color system options; acid stains or dyes. Each produce different results – both rich and attractive. Architects will often call for a leathery look using acid stains in various earthy tones – then other dyes or stains can be added for more possibilities.
A large floor area can can become more interesting with the application of any number of patterns, or custom tile looking borders. Then the surface is further colorized with stain or dyes. colorization with dyes or stain embellishes any concrete floors like decorative overlays, polished concrete and grind and seal work. Experts then layer on epoxies or urethane sealant for added strength and protection.
Find out more about stained concrete flooring….
Stamped Concrete
Flooring
Stamped Concrete accents flooring with colorful designs. Most often, it's added as a separate layer over new pours. Especially on indoor or outdoor expanses. For example, backyard entertainment areas, around a pool or even a sitting area near the barbecue or eating area. Your choice of patterns in stamped concrete is almost endless.
The selection of styles and patterns may be imitation hardwood as cedar or pine in your favorite stain or color choice. By including stamped concrete, it adds beauty and functionality to your home and residence. Stamped concrete presents a broad collection of choices in color and texture. The talented craftsman mixes powder pigment to create interesting combinations to make a superb visual elegance.
Read more about stamped concrete flooring….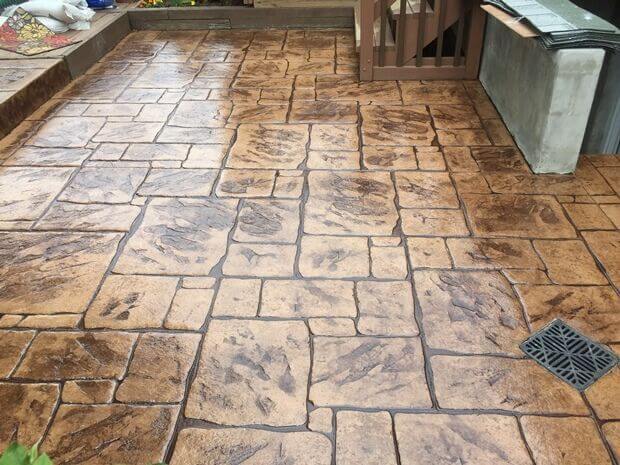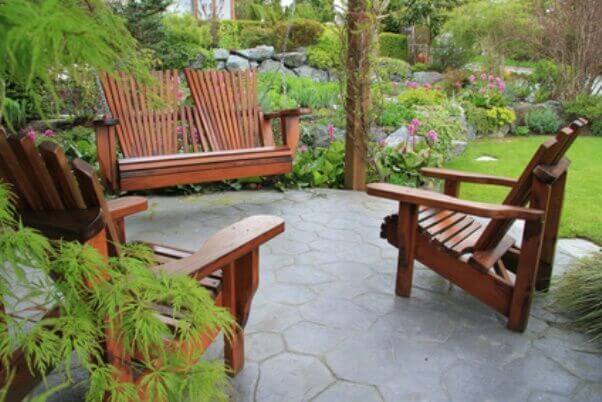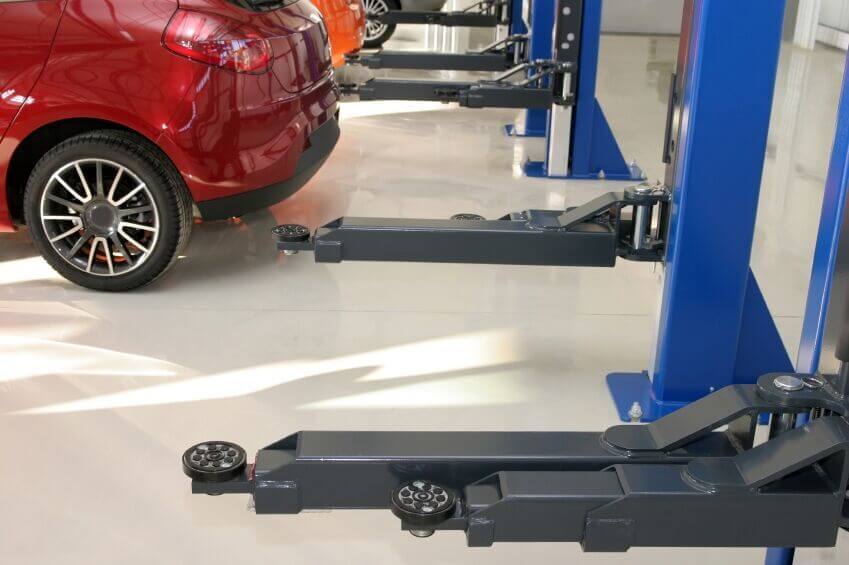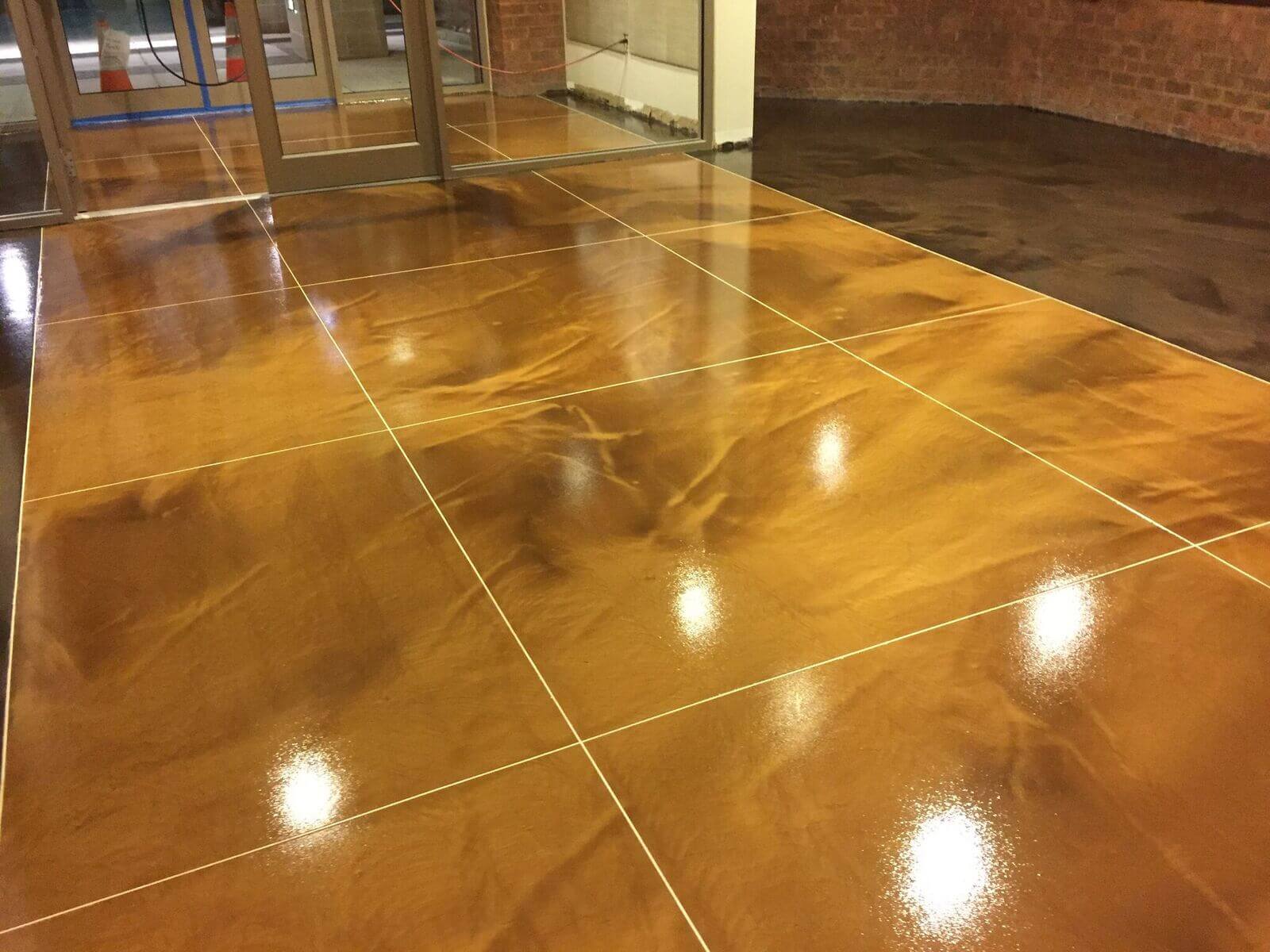 Epoxy floor solutions are made as coatings and paints, resulting in not just a decorative floor, but in practical terms, lifelong durable protection for your concrete floors in Corvallis. Both interior and exterior. Chemically engineered for strength without compromising beauty. Epoxy Flooring types range from paints to heavy-duty chemical resistant coatings. What we know as "epoxy" is a two part – resin and hardener – system, used with urethanes or polyaspartics as a final top coat.
Or simply finished with a clear epoxy layer. For an elegant – or dramatic – flooring solution, explore the possibilities of surface textures and colors by adding quartz, sand or color chips. Epoxy Floors in Corvallis installed by Metrocrete can be seen everywhere, including in food and beverage facilities, residential garages, basements, commercial kitchens, offices, warehouses, laboratories, medical offices and in many more locations.

Corvallis, Oregon
Benton County: 97330, 97330, 97331, 97339
Save Save Save Save Save Save Save Save Save Save Save Save Save
States & Cities We Service

(click on state below to see cities)