Concrete Floor
Experts


(646) 845-0973

Stained, stamped, epoxy or polished concrete floors - Call Us Today!
Discover how concrete & epoxy floors
can transform

 your home or business
CONCRETE FLOOR TEXTURES IN Jackson Heights
Finding the right contractor for a job can be difficult and can be drain on your valuable time. Fortunately, you landed here for a reason. We offer top quality concrete flooring solutions within reasonable budgets.
CAPTIVATING CONCRETE FORMS
Revel in our broad collection of concrete flooring options like artistic Epoxy Floor Coatings, resplendent Polished Concrete, effective Concrete Resurfacing, and decorative stains applied with an artistic flare.
CALL US TODAY: PROUDLY SERVING IN New York
We are specialists in stained & stamped, epoxy and polished concrete floors. Local and experienced experts in commercial/residential concrete floors. Schedule Metrocrete to review your project and pricing options.
TOTAL SATISFACTION GUARANTEE
We will meet and surpass your installation time expectations, budget constraints, as well as your expectations in terms of service and quality of craftsmanship. We're confident in our abilities, so we can make this promise to you.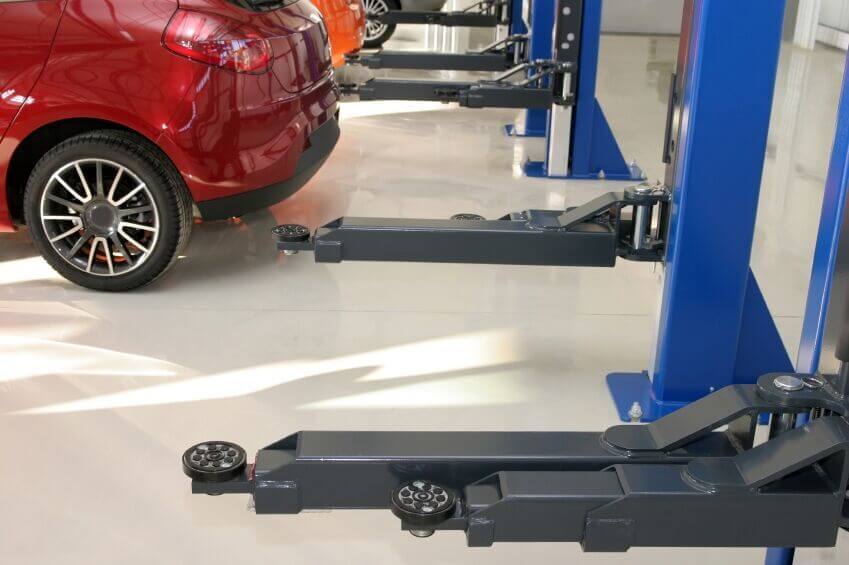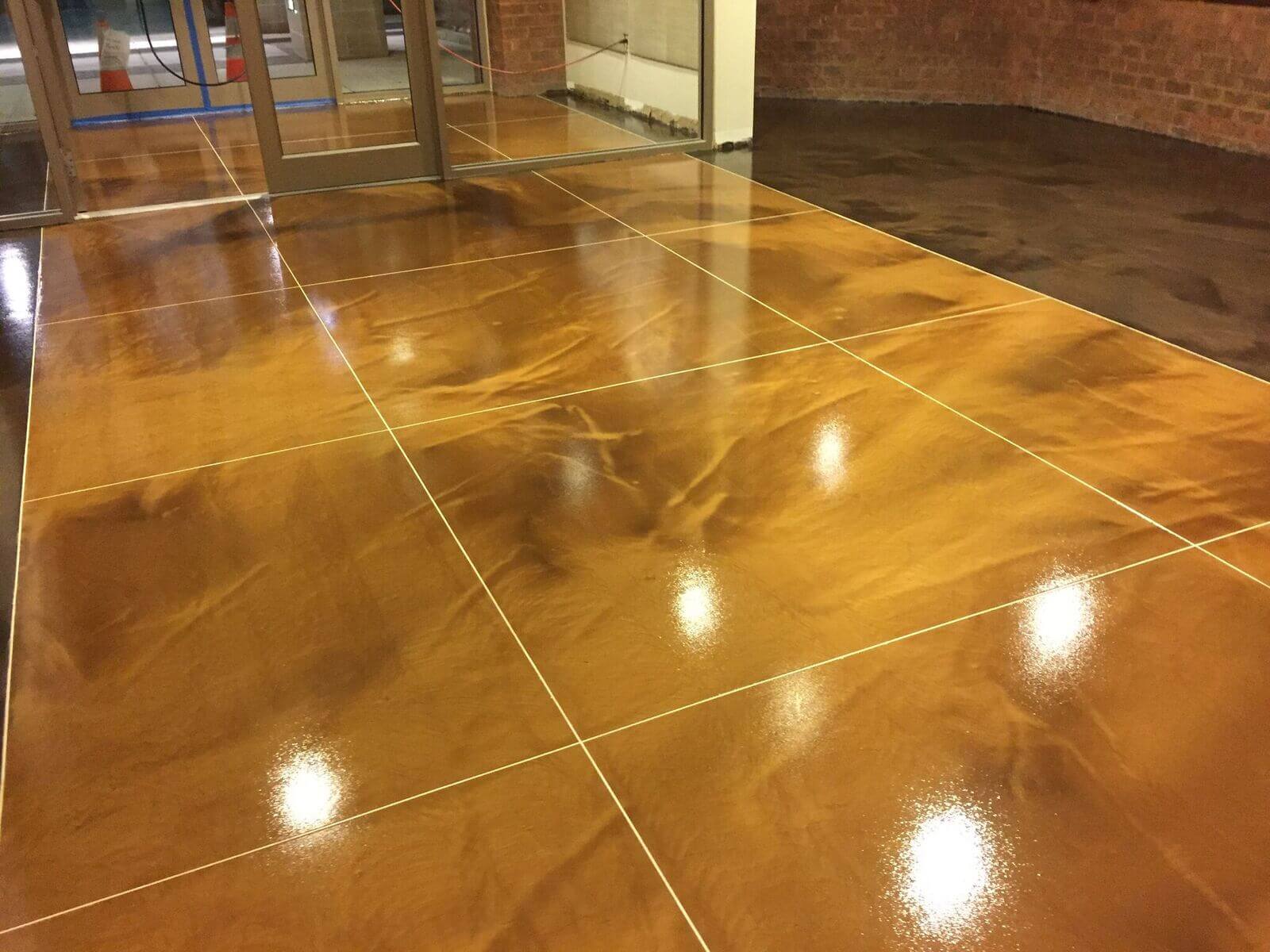 Epoxy floor types can be either paints or a coating, providing not just a visually pleasing floor, but practically impenetrable protection for concrete floors and walkways. Engineered for strength and elegance. Call us in Jackson Heights. Epoxy Flooring types are comprised of engineered paint products and thick stratified layers of chemical resistant coatings. A hardening agent, when combined with a resin make up epoxy. It's most often paired with urethanes or polyaspartics as a final top coat. Or simply finished with a clear epoxy layer.
Whether you're looking for simple elegance or brazen artistic expression in your flooring, appraise the wide range of surface textures and colors by adding quartz, sand or color chips. Epoxy Floors installed by Metrocrete have virtually endless applications in Jackson Heights, including in laboratories, food and beverage facilities, residential garages, basements, commercial kitchens, offices, warehouses, and in too many more applications to list.
A polished concrete flooring application will make use of a comparable progressive sanding/sealing method as epoxies, except polishing it with gradually finer grit, smooths the cement into a shiny, semi shine or matte finish. The same look as polished concrete is accomplished by the use of a decorative overlay, which may offer yet another choice to address your flooring requirements. Overlays use self-leveling concrete, resulting in a finished floor with an average thickness that can vary from a sixteenth of an inch to 2 inches. Concrete overlays are being used extensively, and you'll also see them in shopping malls. Color stains can be employed in the creation of your polished concrete floors. They can be applied in natural green and brown earthy tones plus, in blues, reds and ochers. A whole rainbow of colors!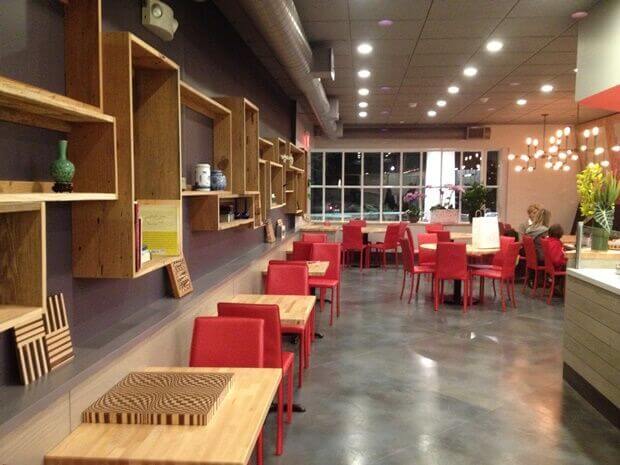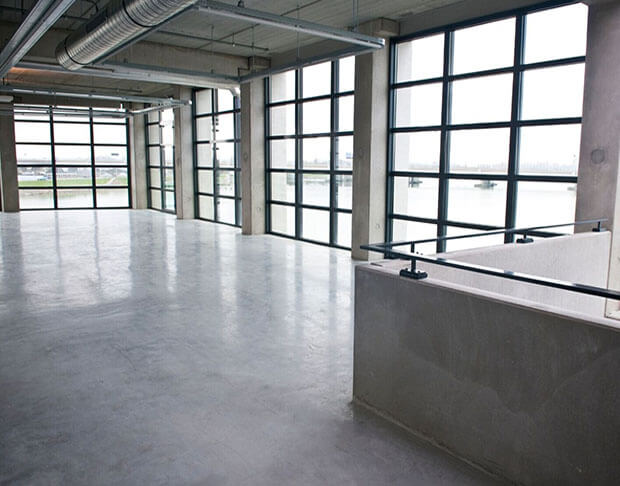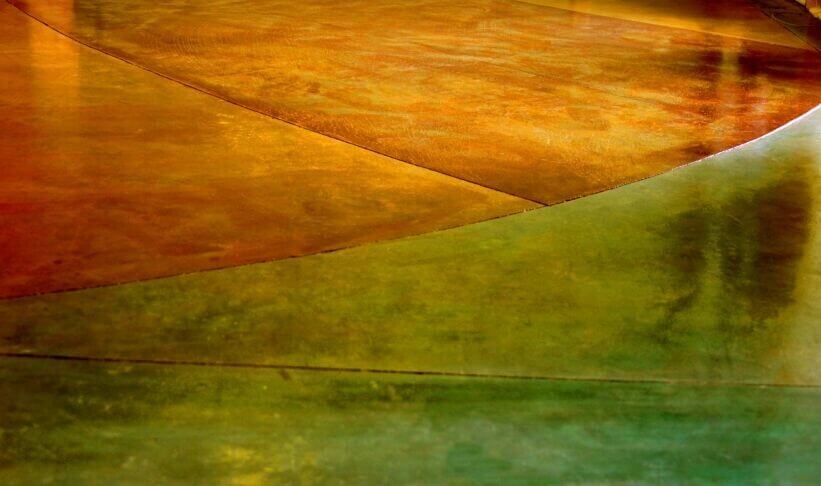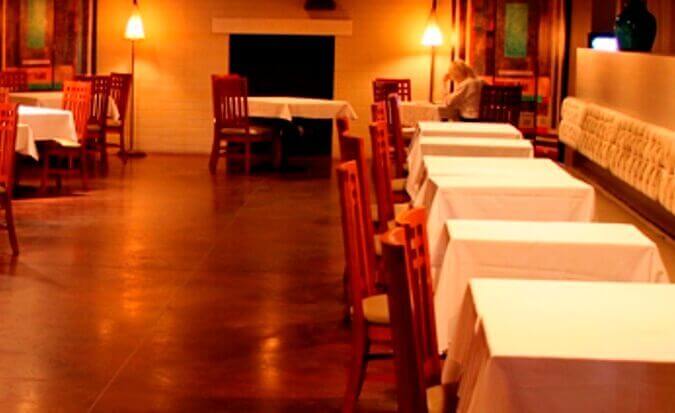 Stained Concrete 
Flooring
Stained concrete floors are one of a kind, elegant flooring surfaces which are ideal for restaurants, retail, corporate offices or even in residential houses. Decision makers can choose from two colorization methods. Concrete dyes or acids which each produces distinctly different outcomes depending on your goals. Colorization with stains and dyes enhance any concrete work – decorative overlays, polished concrete or even grind and seal projects. Experts then apply epoxy sealers or urethane coatings for greater protection.
Concrete contractors are able to achieve a rich earthy brown color, with a leather-like appearance. Then stains or dyes can be introduced for additional possibilities. A large floor area can can become more interesting with the application of patterns in mosaics, border or the like. And then additional colors can be applied.Find out more about stained concrete flooring.
Stamped Concrete
Flooring
Stamped Concrete upgrades floors whether its indoors or outdoors. Most often, it's added as a separate layer over cracked concrete, to cover interior or exterior surfaces like, front walkways attractively curving around flower beds leading to your home. Inside the entrance hall could be a neutral color of stamped concrete and provide low maintenance. Choices of patterns and textures are almost unlimited.
Choose from a broad array of patterns offered, of natural stone slabs as well as seamless granite or limestone. Including stamped concrete transforms your living space into a more luxurious environment. Stamped concrete presents a broad range of colors and textures. The talented craftsman mixes powder pigment to create interesting combinations to make a delightful focal point to your outdoor area.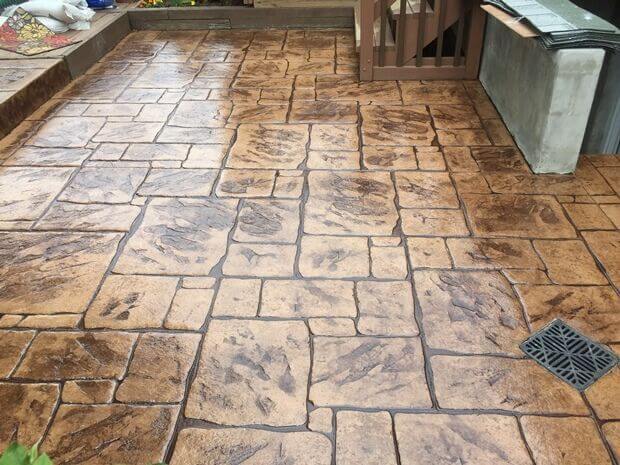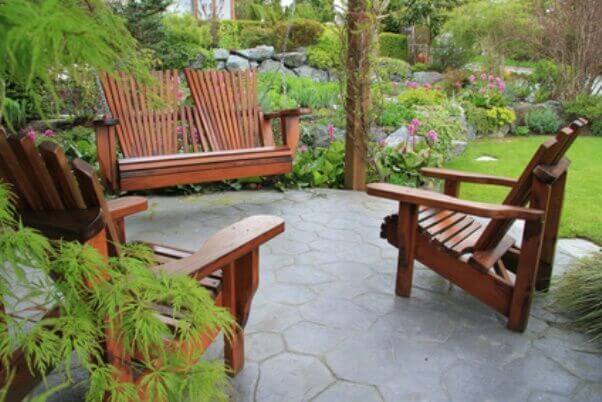 Jackson Heights, NY 11372

Queens County:  11372

Save
Save
Save
Save
Save
Save
Save
Save
Save
States & Cities We Service

(click on state below to see cities)