Concrete Floor
Experts


(646) 845-0973

Stained, stamped, epoxy or polished concrete floors - Call Us Today!
Discover how concrete & epoxy floors
can transform

 your home or business
CONCRETE FLOOR STYLES IN Oyster Bay
Locating a skilled contractor may be difficult and a lot of time can be wasted. Thank you for finding us. We're committed to quality concrete flooring projects that are on time and on budget.
TOTAL SATISFACTION GUARANTEE
We'll meet or exceed your installation timing expectations and budgetary requirements, as well as your expected level of service and product quality. We're happy to make you this promise because we know our capabilities.
CALL TODAY FOR AN ESTIMATE IN New York
We are experienced specialists in stained & stamped, epoxy and polished concrete floors. Local experts for both residential and commercial concrete floors. Book in Metrocrete for a free quote & to review your project!
DECORATIVE CONCRETE FLOORS
We specialize in a wide range of concrete floor options like Epoxy Floor Coatings, non-fading Polished Concrete, expert Concrete Resurfacing, and artistically applied decorative stains make for a beautiful floor.
A polished concrete flooring application will utilize the same progressive sanding/sealing method as epoxy, but polishing concrete with progressively finer grit, refines the cement into a shiny, semi shine or matte finish. A similar appearance to polished concrete can be gotten with a decorative overlay, which may offer yet another choice to address your flooring requirements. This type of process requires the use of self-leveling concrete which offers an uninterrupted, elegantly flawless surface, frequently found in galleries, showrooms, and museums You can find concrete overlays anywhere you see a large floor space – even a warehouse. Color pigments may be used on polished concrete floors, in natural green and brown shades found in nature, as well as reds, blues and yellows. A gamut of color possibilities are available.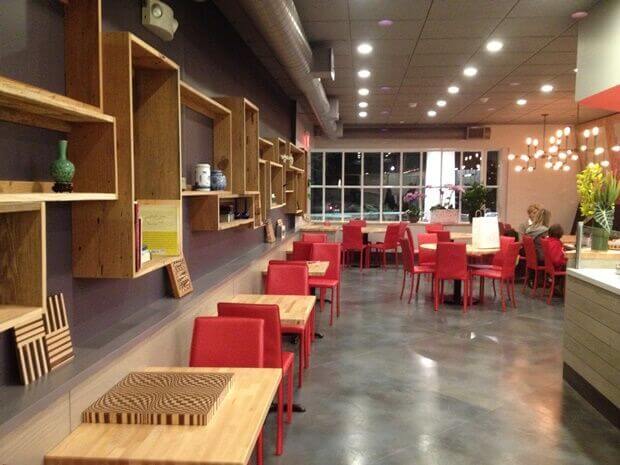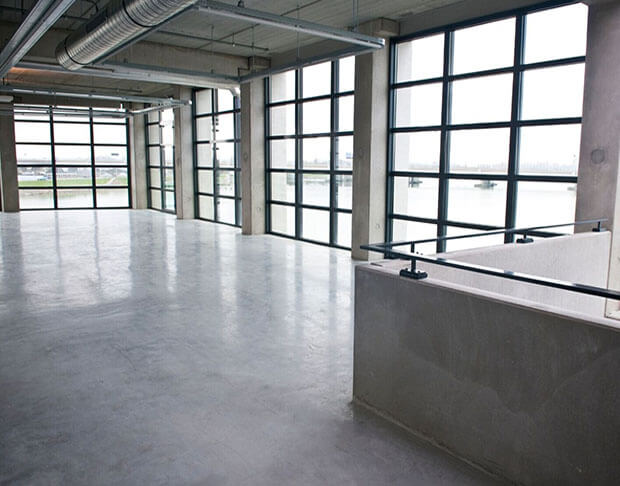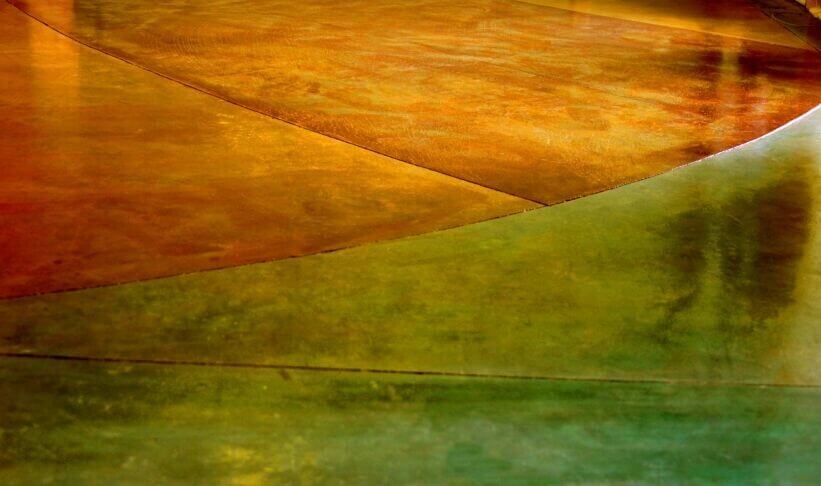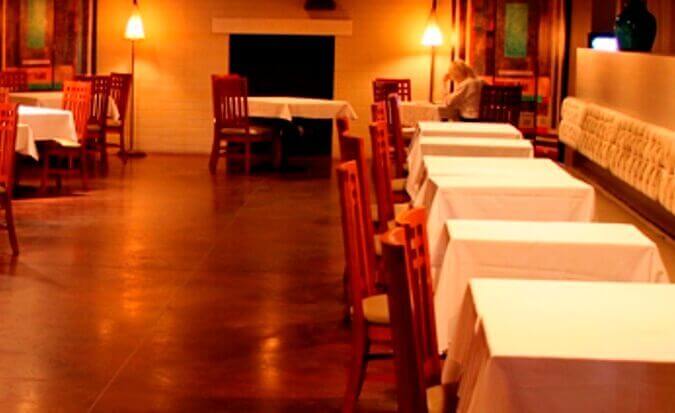 Stained Concrete 
Flooring
Stained concrete floors are one of a kind, low maintenance flooring surfaces which are ideal for residential use. Architects call for their use in modern, open concept or more traditional home styles. Homeowners will choose one of two colorization systems; acid stains or concrete dyes. Both will produce a different result you'll be impressed with. Dyes and staining will beautify other types of concrete like polished concrete, decorative overlays, and grind and seal work. Experts then layer on sealant in epoxy or urethane for added strength and protection.
You can achieve a leather-like appearance by using dark, rich brown tones then, stains or dyes are introduced for more limitless possibilities. Many designers create even more interest by having installers cut into the surface creating any number of patterns, or custom tile looking borders. Then the surface is further stains or dyes can be applied.
Stamped Concrete
Flooring
Stamped Concrete beautifies indoor and outdoor floors. Generally, concrete stamping is layered onto fresh concrete, covering interior or exterior surfaces like, front walkways attractively curving around flower beds leading to your home. Inside the entrance hall could be a neutral color of stamped concrete and provide low maintenance. Stamped concrete patterns can resemble many types of rocks. Stamped concrete can resemble sandstone or Ashler Stone that is randomly interlocking.
When including stamped concrete. it becomes a more livable space with safe walkways around your home. Stamped concrete supplies a vast combination of textures and colors. The talented expert uses the right amount of acid stain to the concrete to create an artistically pleasing design.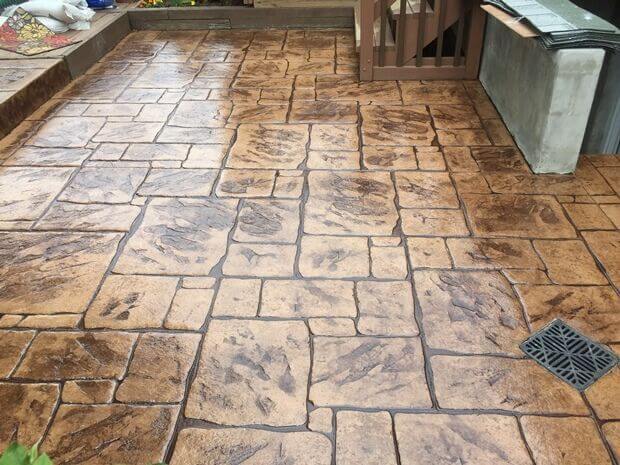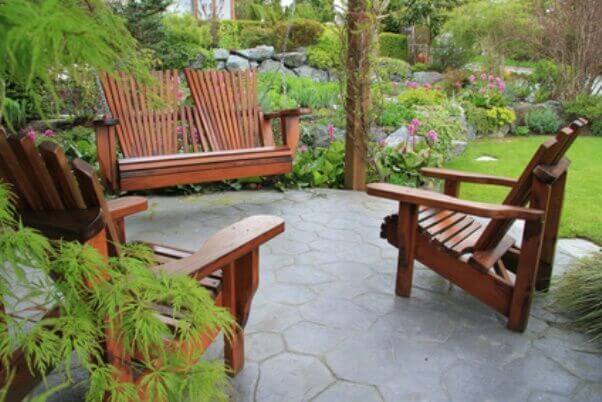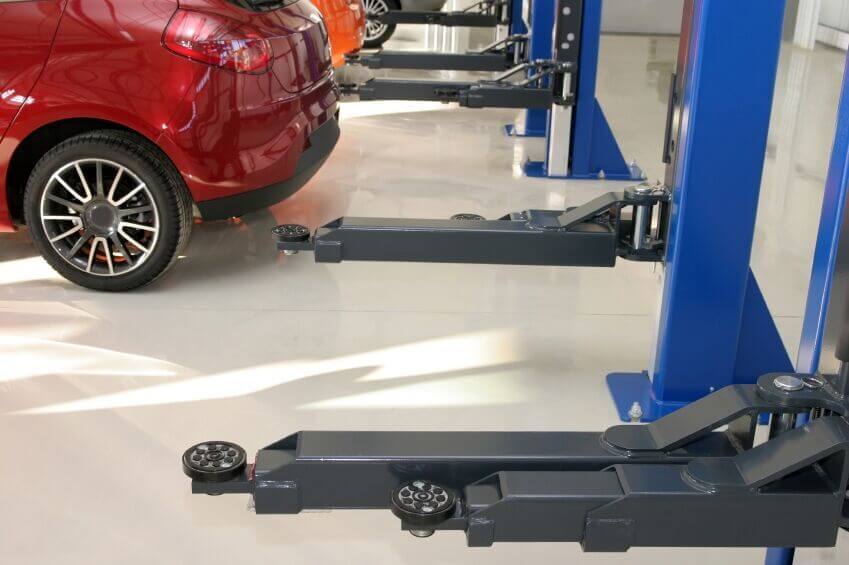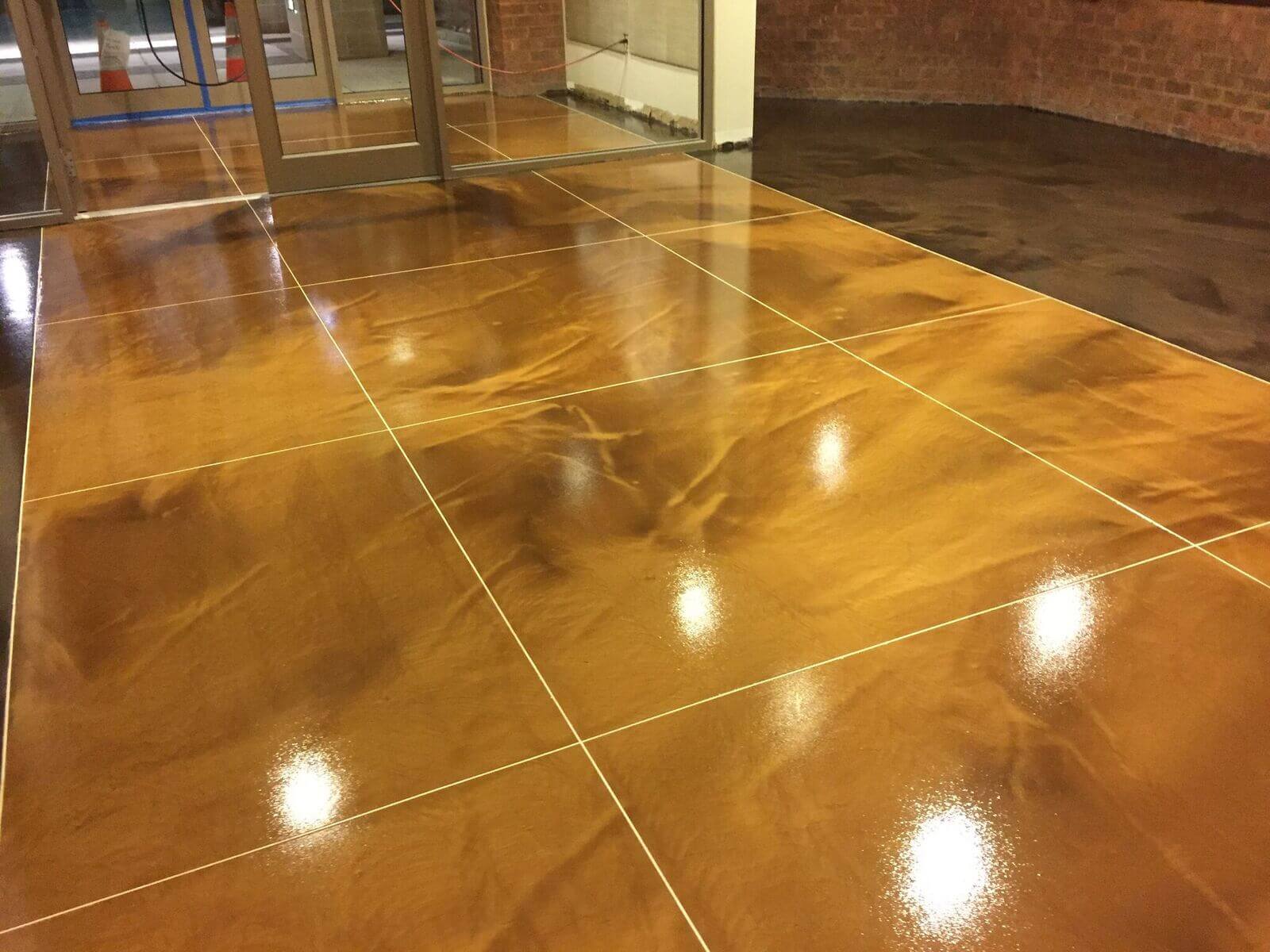 Epoxy floor coating alternatives can be either paints or a coating, providing not just supple flooring elegance, but durability and protection of concrete interior or exterior walking areas – engineered for strength without compromising style. You can find us in Oyster Bay. Whether you're looking for simple elegance or brazen artistic expression in your flooring, appraise the wide range of resplendent colors created by mixing in quartz, sand or pigments.
At Metrocrete, our Epoxy Floors have covered it all in Oyster Bay. Including in showrooms and retail stores, basements, warehouses, dog kennels, residential garages, laboratories and so much more we can't name but a small sample of locations! Engineered epoxy flooring solutions run the gamut from very durable paints to thick application of chemical resistant coatings. Epoxies are engineered as a resin with a hardener component. Often combined with urethanes or polyaspartics as the final coat. Or coated with just a clear epoxy.

Oyster Bay, NY 11732, 11771
Nassau County: Bayville, Brookville, Centre Island, Cove Neck, East Hills, Farmingdale, Lattingtown, Laurel Hollow, Massapequa Park, Matinecock, Mill Neck, Muttontown, Old Brookville, Old Westbury, Oyster Bay Cove, Roslyn Harbor, Sea Cliff, Upper Brookville, Bethpage, Eat Massapequa, East Norwich, Glen Head, Glenwood Landing, Greenvale, Hicksville, Jericho, Locust Valley, Massapequa, North Massapequa, Old Bethpage, Plainedge, Plainview, Seaford, South Farmingdale, Syosset and Woodbury
Save
Save
Save
Save
Save
Save
Save
Save
Save
Save
Save
Save
Save
Save
States & Cities We Service

(click on state below to see cities)