Concrete & Epoxy Flooring
Experts


(984) 232-6211

Stained, stamped, epoxy or polished concrete floors - Call Us Today!

Discover how concrete & epoxy floors
can transform

 your home or business
CONCRETE FLOOR TREATMENTS IN Winston Salem
Searching for a contractor is often challenging and waste valuable time. But, you're in the right place now. We'll meet – and usually exceed your timing and budget expectations.
We promise to match or exceed your timeline and budget constraints, as well as your expectations in terms of service and quality of craftsmanship. We make this promise with confidence.
CALL US TODAY: PROUDLY SERVING IN North Carolina
We are experts in epoxy, polished, stained stamped concrete floors. Established expertise in residential and commercial concrete flooring. Get Metrocrete out for a free estimate review your floor options.
ARTISTIC CONCRETE PATTERNS
We have a glamorous selection of gorgeous concrete floors to choose from like rich Epoxy Floor Coatings, dazzling Polished Concrete, Concrete Resurfacing, and superbly applied decorative stains – for a stunning floor.
Polished Concrete
Flooring
Polished concrete floor applications make use of a comparable grinding and sealing process as epoxy floors – except that buffing concrete refines the surface so once sealant is applied, it becomes gloss, semi-gloss or a matte finish. The identical appearance is offered by utilizing a decorative concrete overlay, where the finish is more easily controlled and may better suit your timing.
The use of self-leveling concrete for this application, results in an expansive, blemish free area like those seen in museums, auto showrooms and banquet halls. You can also find decorative concrete overlays in restaurants because they're fast and easy to install with little down time. Color dyes may be applied to polished concrete floors, and are available in a variety of green and brown earthy tones and in reds, blues and yellows. A whole gamut of color possibilities.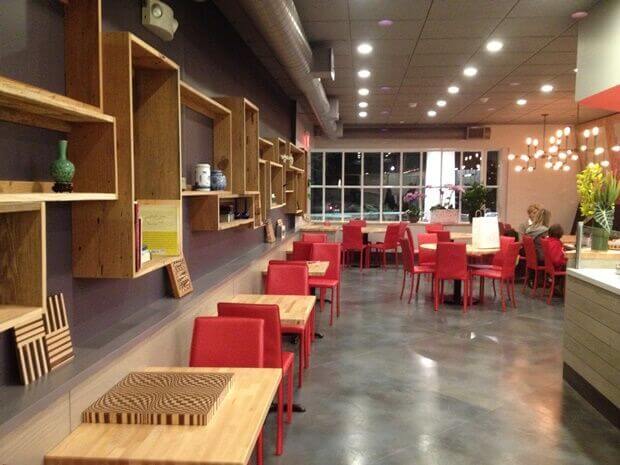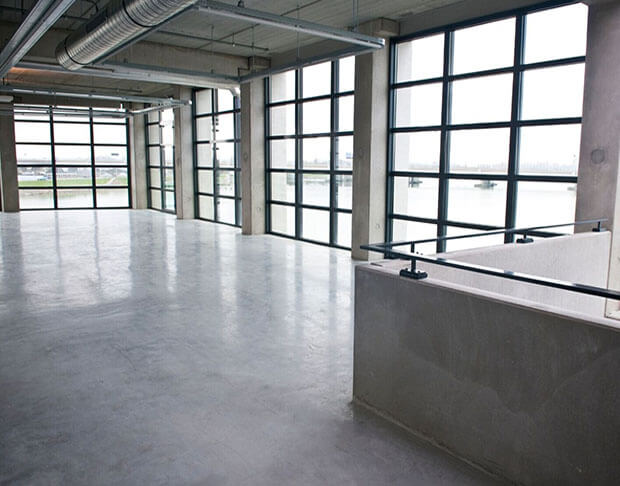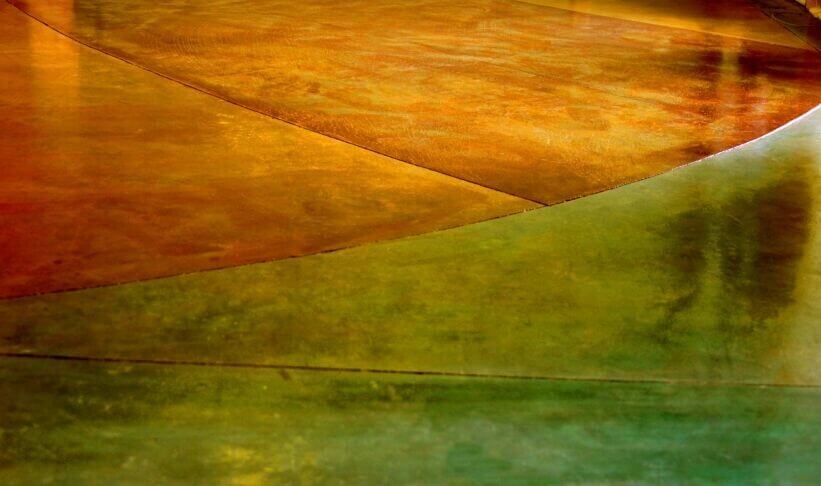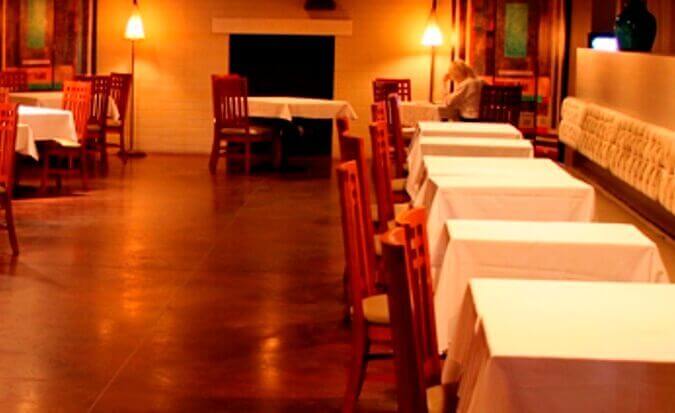 Stained Concrete 
Flooring
Stained concrete floors are versatile, low maintenance flooring that is becoming more mainstream for almost any retail, commercial or even residential use. Property owners who want to add color can choose between two staining systems for their color finishes; acid stain or concrete dyes. Both produce a different result – both rich and appealing. Dyes and staining will beautify other types of concrete like decorative overlays, polished concrete or even grind and seal projects.
Experts then apply sealant in epoxy or urethane for greater wear and tear. Contractors can achieve a leathery, dark rich brown appearance with acid staining. And then dyes or other stains could be introduced for more limitless possibilities. Many designers create even more interest by having installers cut into the surface creating any number of patterns, or custom tile looking borders. Then the surface is further colorized with stain or dyes.
Find out more about stained concrete flooring….
Stamped Concrete
Flooring
Stamped Concrete beautifies indoor and outdoor floors. Quite often, concrete stamping is done on newly set concrete, mainly on exterior concrete expanses like pool decks, patios, walkways and of course driveways. Interior spaces include any and all areas from basements to kitchens and even main floor living areas.
Stamped concrete patterns can resemble many types of rocks. Stamped concrete can resemble sandstone or Ashler Stone that is randomly interlocking. When including stamped concrete. it becomes a more livable space with safe walkways around your home. Stamped concrete brings an indefinite medley of textures and colors The proficient expert adds powder pigment to create interesting combinations to make a unique and artistic area to upgrade your residence.
Read more about stamped concrete flooring….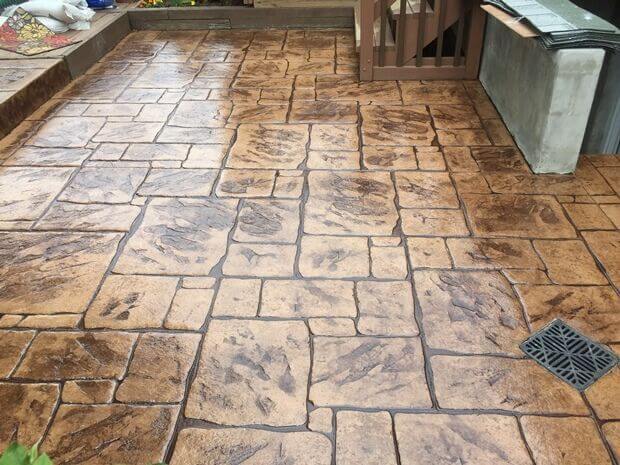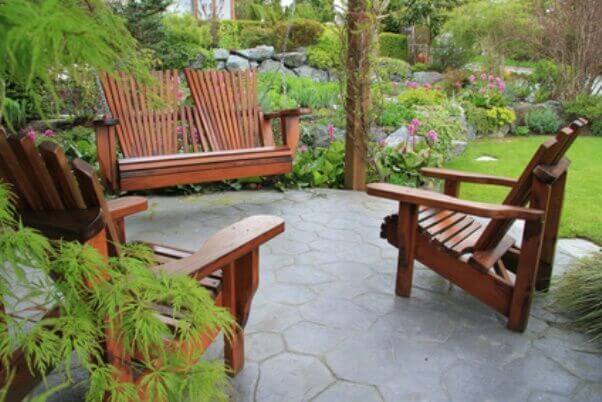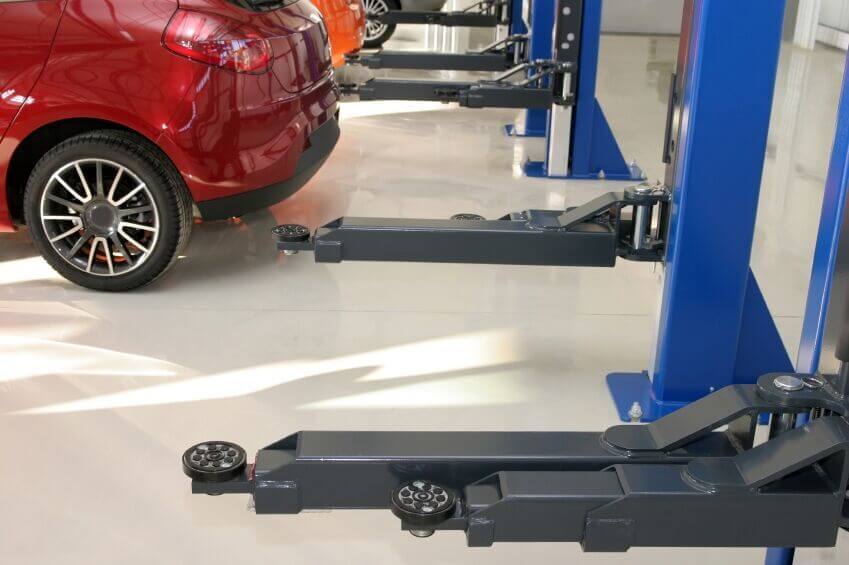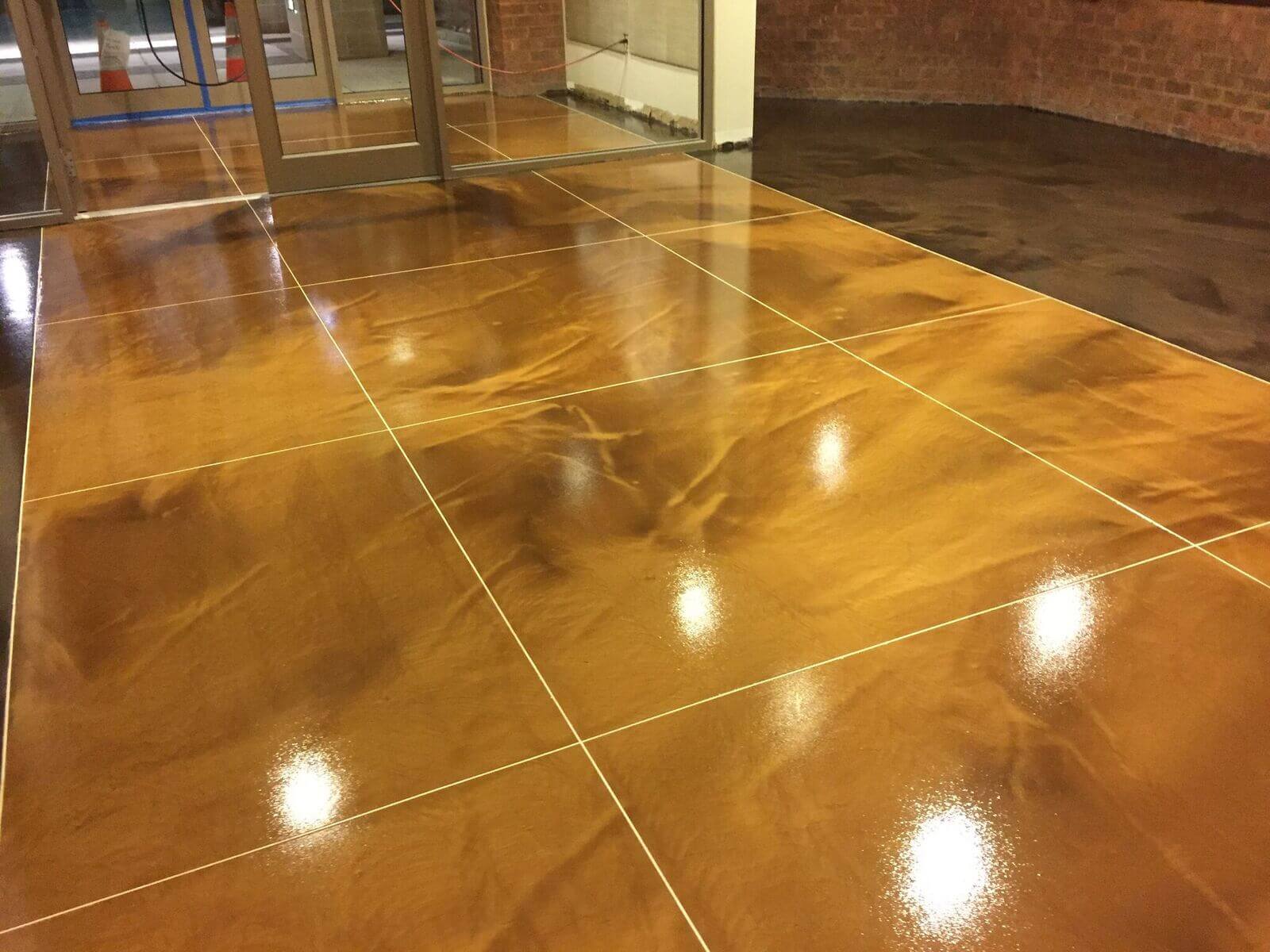 Epoxy floor coating options include paints and coatings, providing not just supple flooring elegance, but lasting protection of concrete substrates – in both interior and exterior applications. Just call, since we're in Winston Salem. You won't be disappointed. For an artistically pleasing flooring solution, think about the wide gamut of finish colors and textures created by the addition of sand, color chips or quartz.
Call Metrocrete, because our Epoxy Floors are used in a myriad of locations in Winston Salem, including in loading docks, residential garages, basements, commercial kitchens, offices, warehouses, laboratories, medical offices and in many more locations. If there's a floor, it can be epoxy! Epoxy Flooring uses and applications encompass both paint based and well built up chemical resistant coatings. Epoxies are a two (2) component product type, often paired with polyaspartics or urethanes as the final coat. Or coated with just a clear epoxy.

Winston Salem, NC
Forsyth County: 27106, 27105, 27107, 27103, 27104, 27127, 27101, 27284, 27040, 27109, 27045, 27023, 27012, 27110, 27151, 27156.Save Save Save Save Save Save Save Save Save Save Save Save Save Save
States & Cities We Service

(click on state below to see cities)