Concrete Floor
Experts


(646) 845-0973

Stained, stamped, epoxy or polished concrete floors - Call Us Today!

Discover how concrete & epoxy floors
can transform

 your home or business
We offer a beautiful range of concrete floor options like rich Epoxy Floor Coatings, glossy Polished Concrete, high quality Concrete Resurfacing, and decorative stains applied with precision and care for a gorgeous floor.
CALL US TODAY FOR SERVICE IN New Jersey
We are experienced specialists in stained & stamped, epoxy and polished concrete floors. Local expertise in commercial and residential concrete floor applications. Don't hesitate to call Metrocrete for an estimate.
TOTAL SATISFACTION GUARANTEE
We commit that we will surpass your time line and budget constraints, as well as your craftsmanship and service expectations. We're pleased to make you this promise
CONCRETE FLOOR STYLES IN Jersey City
Locating a skilled contractor can be challenging and usually much too time consuming. As a top quality concrete flooring contractor, we offer quality within reasonable budgets – and timely installation.
Polished Concrete
Flooring
A polished concrete floor will incorporate the identical sand and seal technique as epoxy floors. Polishing concrete hones it into a shiny, semi-shiny or matte finish once sealer is applied. Pigments can be used on polished concrete floors, in natural green and brown earth tones and also in shades of blues, reds and yellows.
The sky's the limit in terms of color options. An identical look to polished concrete floors can be obtained using a decorative concrete overlay, where the finish is more easily controlled and may better suit your timing. Overlays use self-leveling concrete, resulting in a finished floor with an area of a thousand square feet coverage, poured in an hour. Flooring like this can be seen in retailer shops. These floors are often found in retail stores and large, upscale department stores.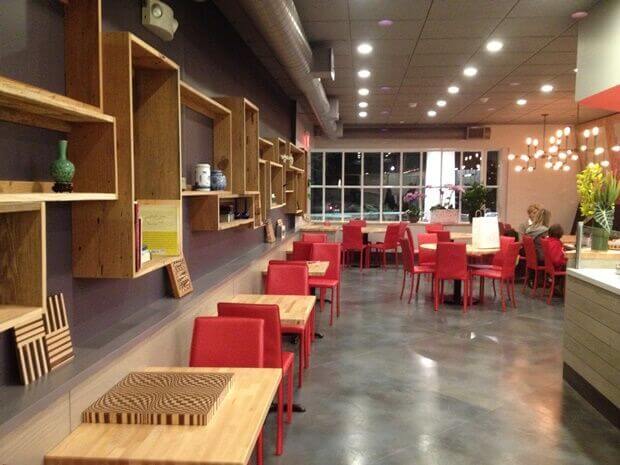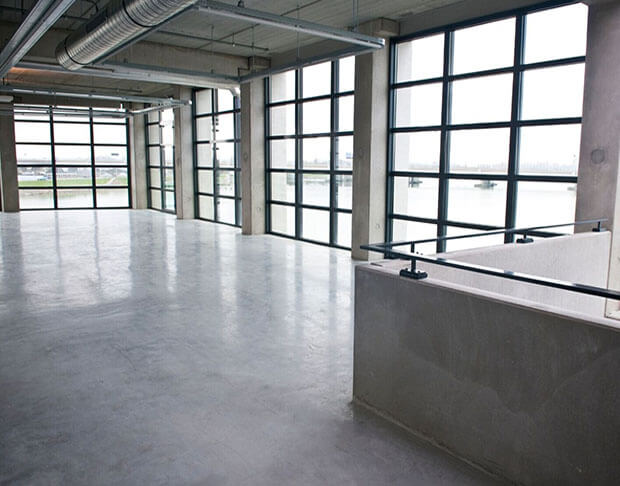 Stamped Concrete
Flooring
A variety of patterns are available in stamped concrete. The patterns can be of natural stone slabs as well as seamless granite or limestone. Including stamped concrete transforms your living space into a more luxurious environment. Stamped concrete supplies a vast array of colors in combination with textures. The creative expert adds a base color to the concrete when combined with a stain fabricates a stunning decorative addition to your home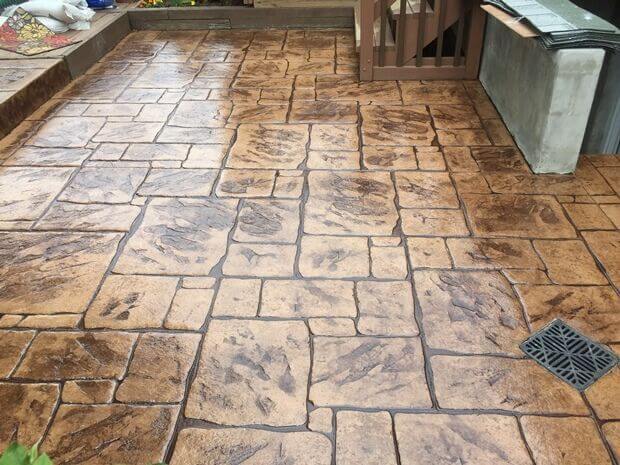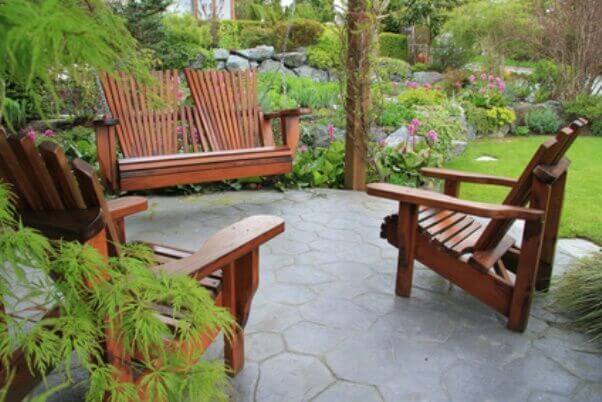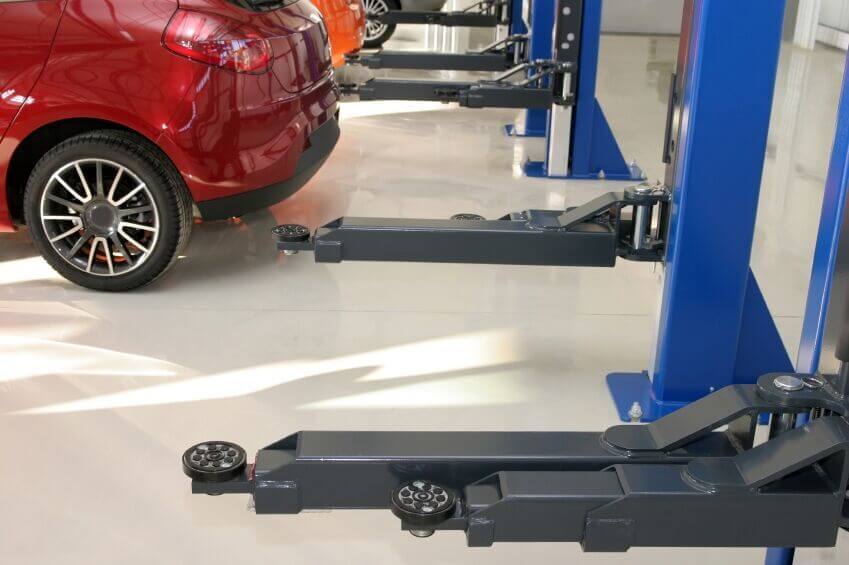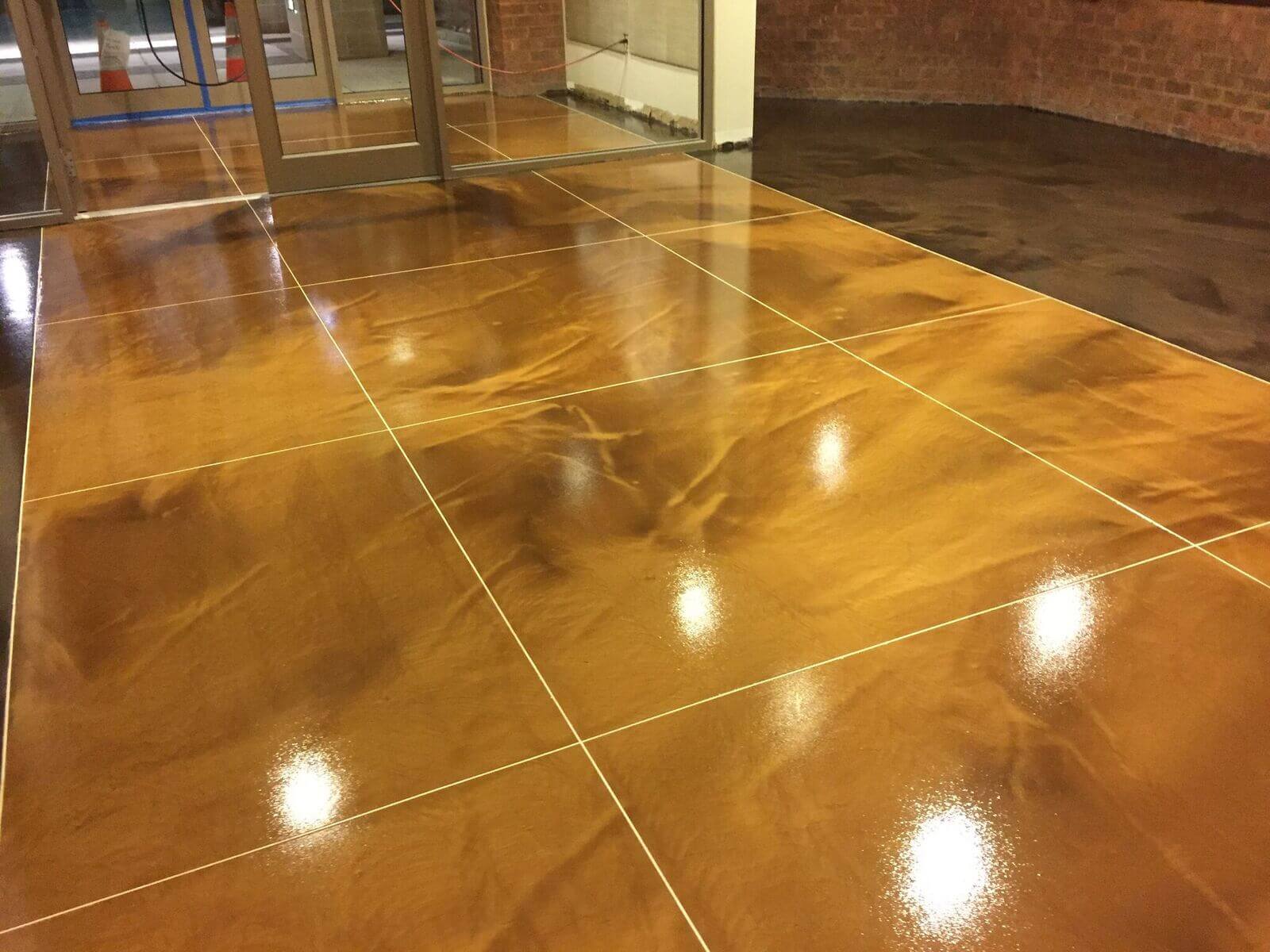 Epoxy floor covering options include paints and coatings, providing not just supple flooring elegance, but enduring protection of your concrete floor areas. Don't hesitate to call us anytime. We're in Jersey City. Engineered epoxy flooring material options include thin yet very durable paints to thick stratified layers of chemical resistant coatings. A hardening agent, when combined with a resin make up epoxy.
It's most often paired with polyaspartics or urethanes as the finish coat. For a decorative and stylish – or dazzling – flooring solution, appraise the wide range of color and texture affects created by the addition of materials like sand and quartz. Metrocrete Epoxy Floors in Jersey City can be seen in every corner of the city, including in data centers, commercial kitchens, residential garages, basement floors, medical facilities, laboratories, warehouses, and this list doesn't cover but a tiny fraction of flooring possibilities.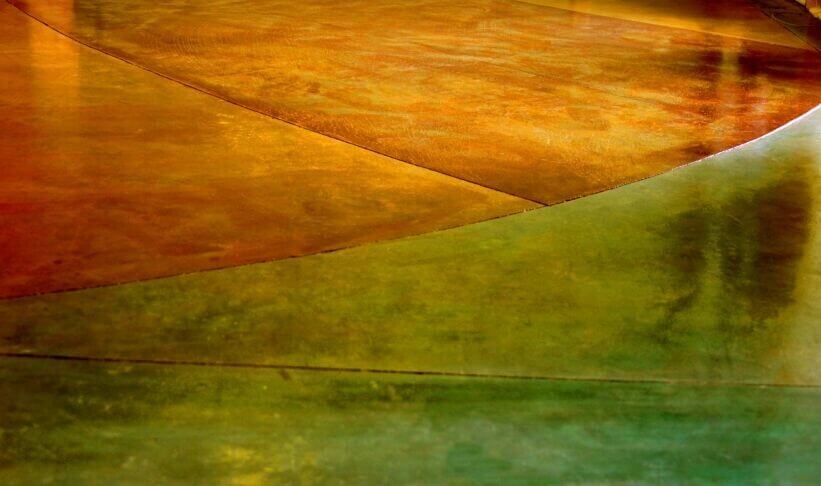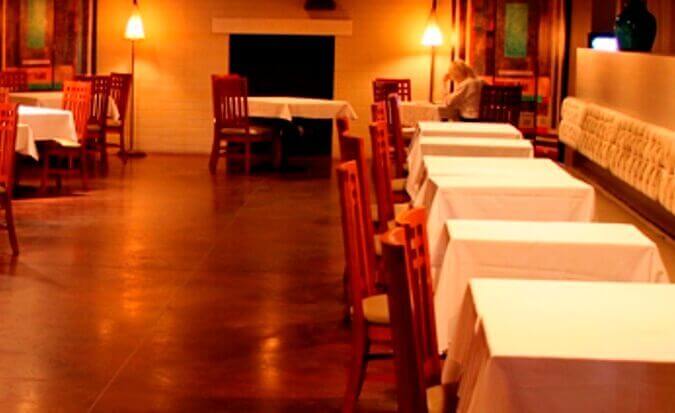 Stained Concrete 
Flooring
Stained concrete flooring surfaces are wonderfully different floors which are perfect for residential use. Architects call for their use in modern, open concept or more traditional home styles. Homeowners will choose one of two color application methods, which can result in various unique looks. It depends what is appealing but both will produces distinctly different outcomes – it's all about the look.
Colorizing dyes and stains are used to enhance any concrete work – decorative overlays, polished concrete and even grind and seal floors benefit. Then the application of additional sealers in epoxy or urethane for additional protection. Many property owners gravitate to the leather look found in some restaurants for a rich, earthy look. Sometimes dyes may be introduced for more limitless possibilities. Many designers create even more interest by having installers cut into the surface creating any number of patterns in flowers, borders or even a brand logo. Then further colorized with stain or dyes.
Find out more about stained concrete flooring….

Jersey City,  NJ
Hudson County: 07017, 07018, 07107, 07019

Save
Save
Save
Save
Save
Save
Save
Save
Save
Save
Save
Save
Save
Save
Save
States & Cities We Service

(click on state below to see cities)