Need New
Concrete Flooring?


(802) 489-7646

Call our experts for stamped, polished, stained & epoxy floors today!

Discover how concrete & epoxy floors
can transform

 your home or business
Floor experts of epoxy floor coatings, polished concrete, stained concrete and stamped concrete. Need ready mix and masonry services? Call Us Today!
Concrete Contractors HIllsborough County
Commercial and industrial concrete floor resurfacing, sealers and waterproofing, non-slip coatings and grinding. Retail stores, restaurants, resorts, offices, residential basements and garages.
We'll exceed your expectations on your new floor project. We're committed to friendly service, quality craftsmanship and quick turnaround.
Contact us today with your requirement. Schedule an appointment and get a price for your next project in Manchester, New Hampshire and surrounding areas.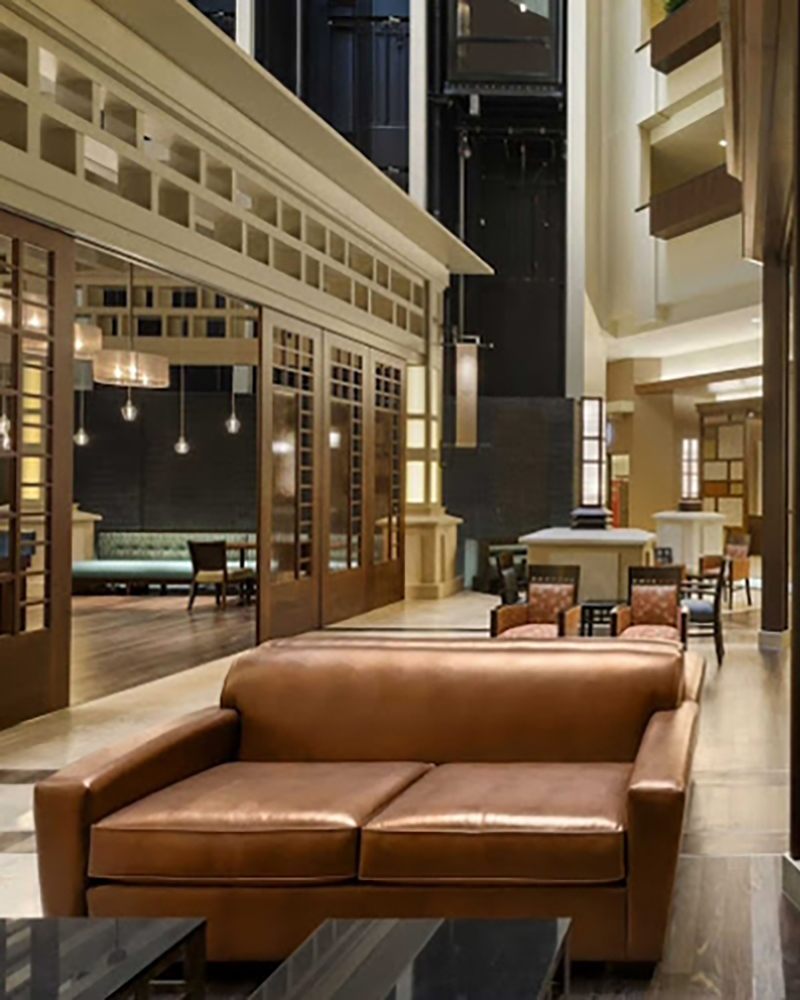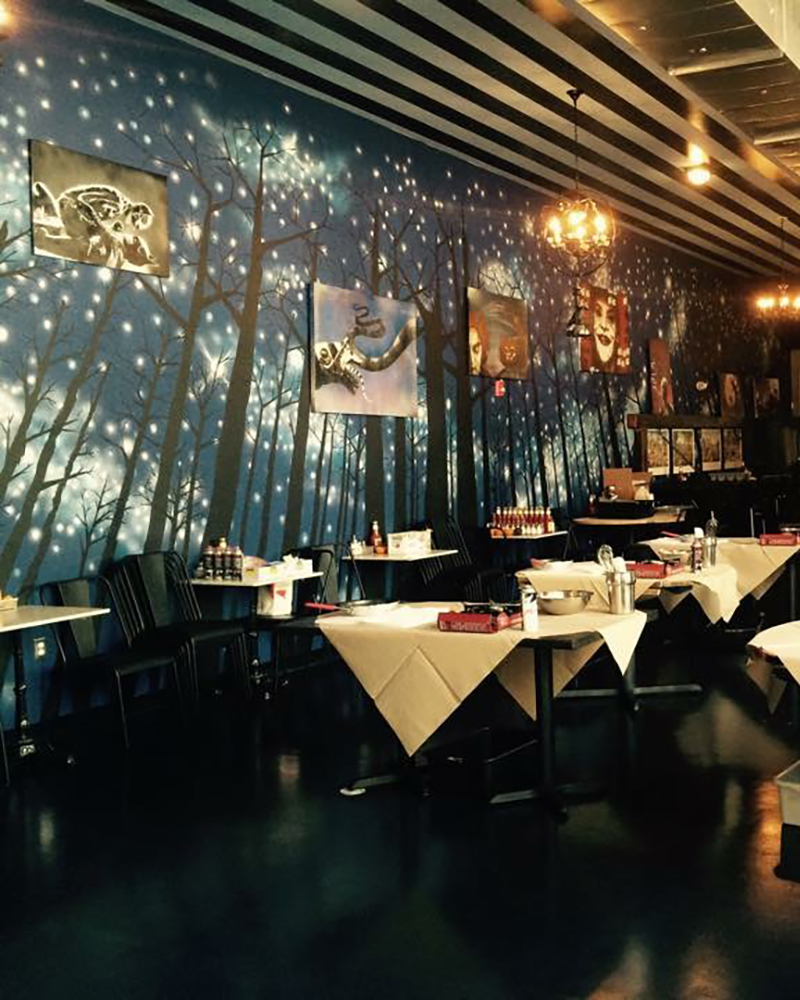 Epoxy floor coatings and paint provide a decorative and functional solution for resurfacing and protecting concrete floors in New Hampshire. Due to harsh winters, de-icing salts are tracked onto concrete creating spalling and deterioration. Epoxy coatings protect from damage while providing a light reflective surface.
Epoxy flooring ranges from thin floor paints to high build chemical resistant coatings including urethanes and polyaspartics. You can choose clear coatings and sealers, gray with decorative color chips or quartz, metallic epoxy or high build slurries for the most demanding uses.
There are many solutions depending on your requirement. Concrete floors can be grinded and sealed with clear epoxy or urethanes. Floors can be resurfaced with overlays and self-leveling systems, then finished with protective epoxy, urethane or polyaspartic sealers. Heights can be adjusted to accommodate doorways, stairs, floor vents or outlets.
If you need core drilling holes for electric, cable, fiber optics or plumbing lines, contact us for scanning and core drill services before commencing a project.
Polished concrete is a floor restoration solution with many options for commercial, industrial or residential use. The process grinds and hones the concrete to a natural appearance with a matte or gloss finish. Staining and coloring options are available.
Additional options are available to achieve the polished concrete appearance when concrete is damaged, uneven or you require a more predictable appearance. Polishable self-leveling concrete overlays can be applied to a thickness up to 3/8 inches. Self-leveling concrete can be mixed with your choice of colorants, then lightly sanded and sealed with an epoxy, urethane, solvent or water based sealer.
Polishable overlays are ideal for spaces with damaged uneven concrete or where access for heavy concrete polishing equipment is limited such as in basements or apartments. Polished concrete is an ideal flooring solution for retail stores, restaurants, breweries, groceries, showrooms and countless other commercial, industrial and residential use.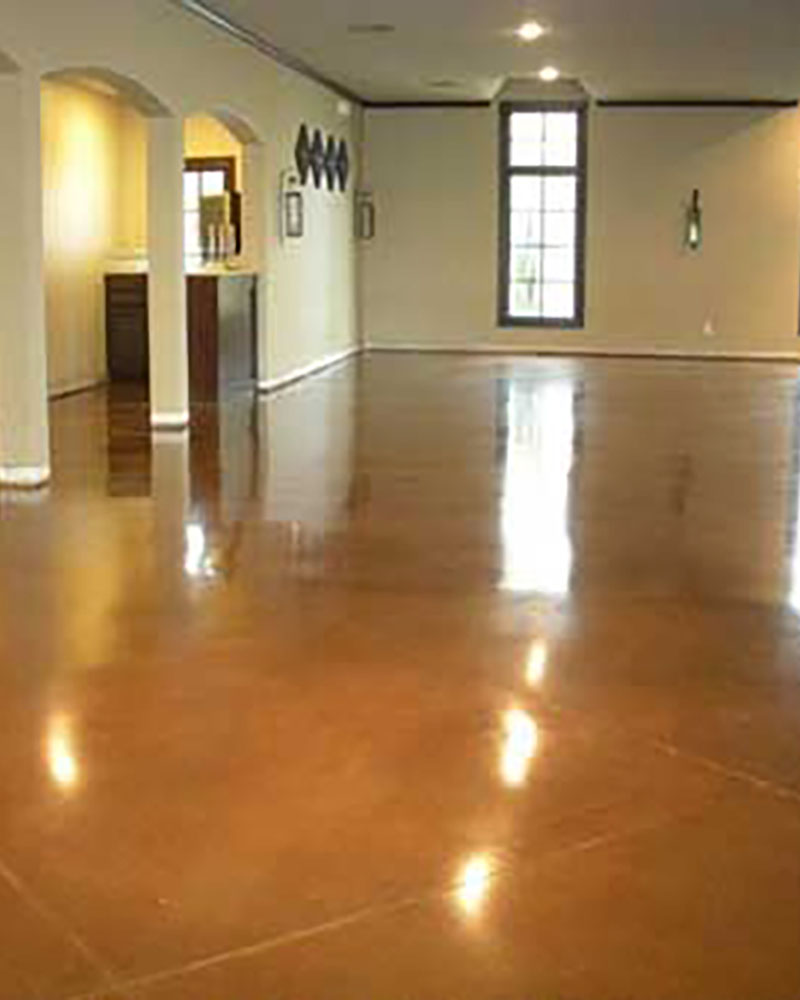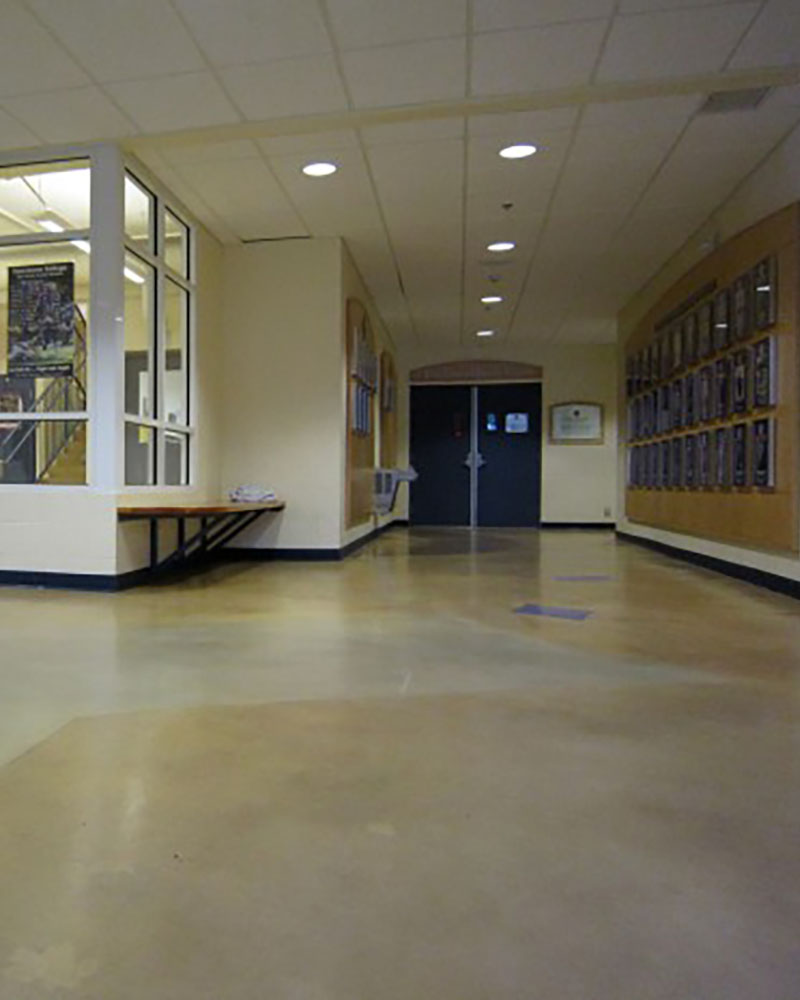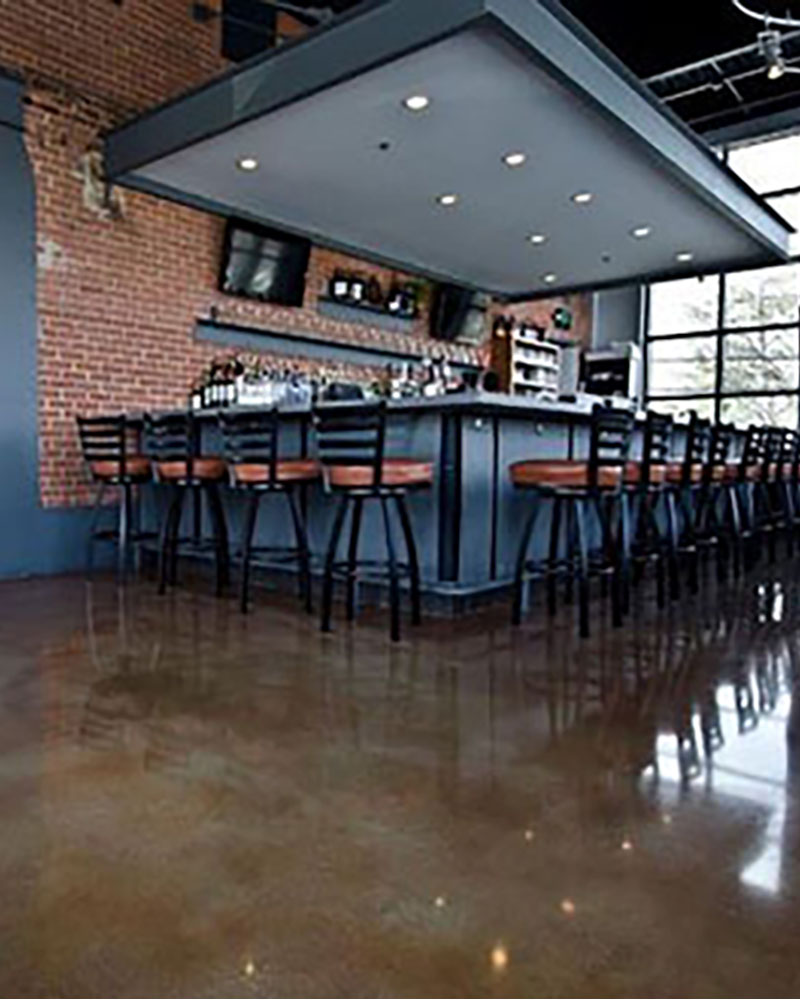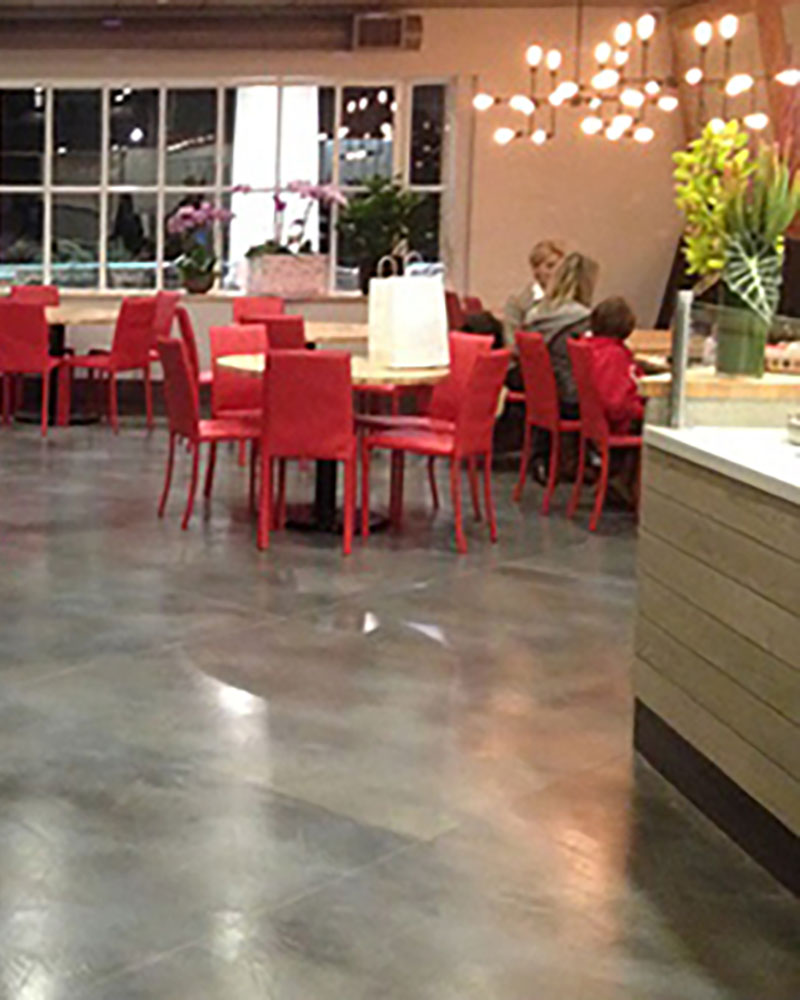 Stained Concrete 
Flooring
Concrete acid stained floors are readily available for existing concrete and overlays. They can be used to create the look of leather with natural earth tone colors of browns and greens. Acid stains react with the lime in concrete resulting with a variegated appearance. Some areas will be dark, others light. Because they are mixed with water, they are translucent. They allow for the natural look of concrete to show through and opposed to floor paint that masks the surface.
Other coloring options include water and solvent based dyes. Dyes can be used to enhance acid stains or can be used alone. They are available in all colors. Water Based dyes are soft pastels while solvent based dyes produce vibrant colors.
Another option to consider for coloring concrete are metallic epoxy coatings. Metallic epoxy is a decorative resurfacing system producing a marbleized appearance similar to concrete stains. Results are dramatic. They are ideal for showrooms, restaurants, retail, office, basements and garages.
Stamped concrete patterns include brick, natural stone, cobble stone and granite textures. Stamped concrete is primarily and exterior process but can be applied to interiors with stamped concrete overlays.
Stamped concrete overlays are used to resurface ugly concrete. This is a great solution for restaurants, bars, breweries and resorts. Stampable overlays also avoid the expensive process of removing old concrete. Just pick the style and start the process. Takes just a few days. Stampable overlays like concrete stamping have numerous color design options. They can be applied to both interior and exterior surfaces.
Ready Mix Concrete – If you need a concrete contractor to pour a new slab with a broom or troweled finish, those services are available too.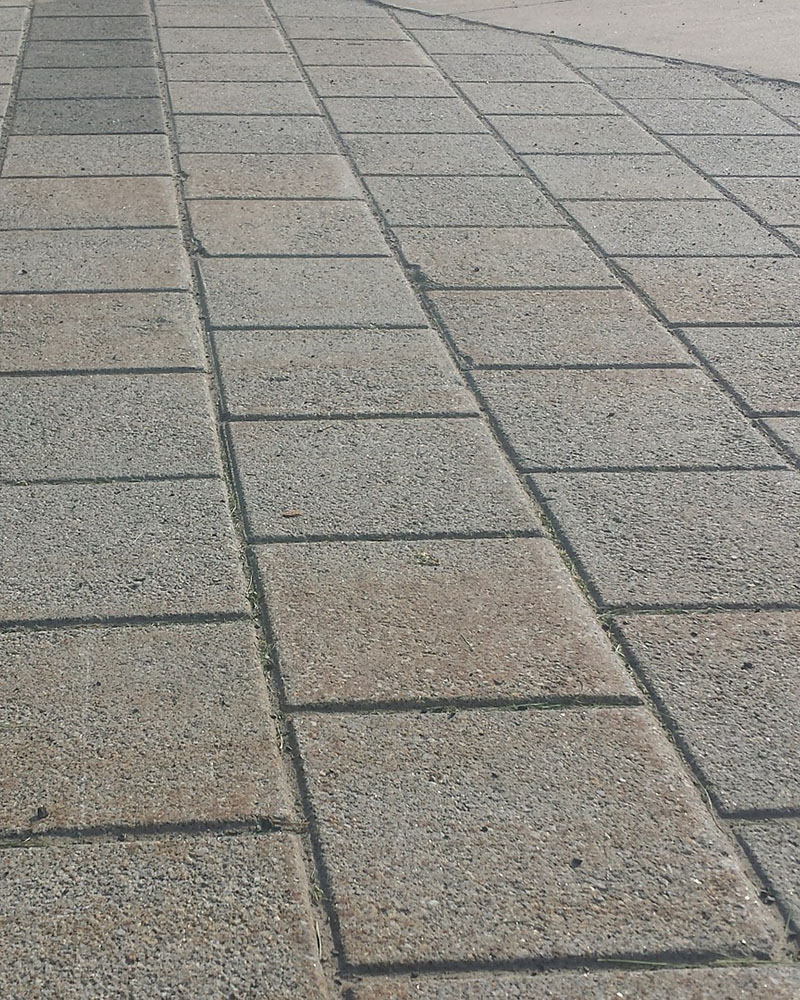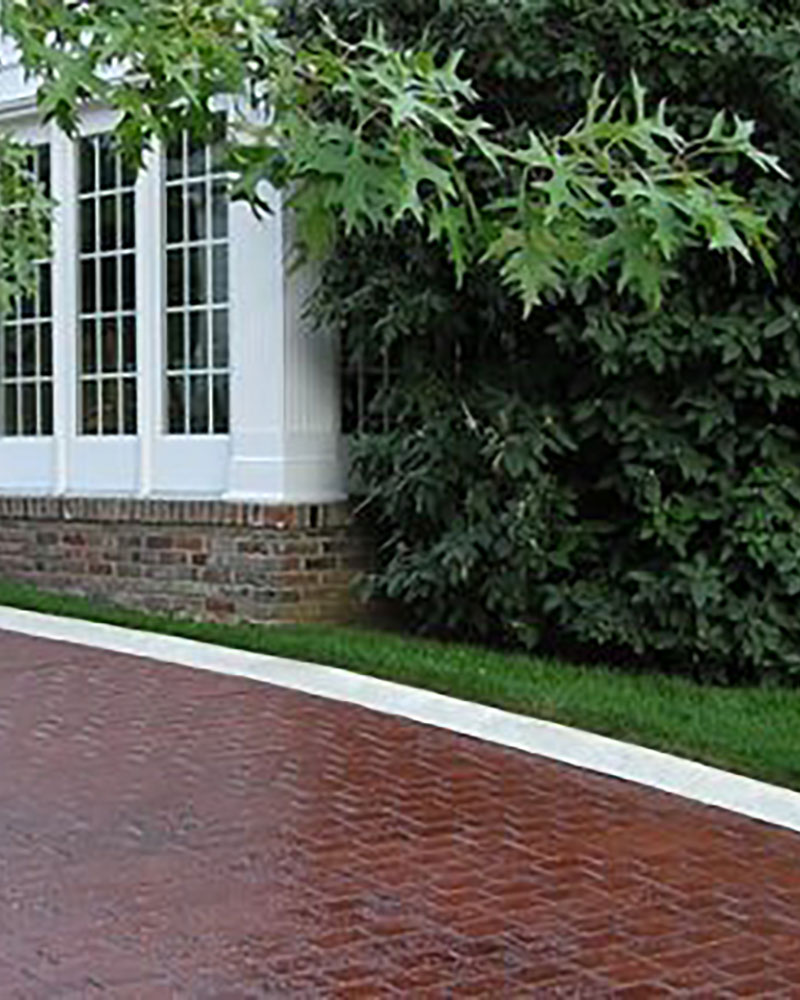 Manchester, NH 03101
Manchester, Hillsborough County: 03103, 03104, 03102, 03109, 03101, 03107, 03111, 03105, 03108
Goffstown, Hillsborough County: 03045
Concord, Merrimack County: 03301, 03302, 03303, 03305
Hanover, Grafton County: 03755
Claremont, Sullivan County: 03743
Portsmouth, Rockingham County: 03801, 03802, 03803, 03804
Dover, Strafford County: 03820, 03821, 03822
Rochester, Strafford County: 03839, 03866, 03867, 03868
States & Cities We Service

(click on state below to see cities)
Construction Permits and Zoning Information in New Hampshire
Manchester Building Department
1 City Hall Plaza
Manchester, NH 03101
603-624-6475
Hillsborough County
Town of Goffstown
Building Department
16 Main St.
Goffstown, NH 03045
603-497-3612