Concrete & Epoxy Flooring
Experts


(314) 899-2040

Stained, stamped, epoxy or polished concrete floors - Call Us Today!

Discover how concrete & epoxy floors
can transform

 your home or business
We'll match or exceed your timeline and budget constraints, as well as your expectations in terms of service and quality of craftsmanship. We make this promise with confidence.
CONCRETE FLOOR TREATMENTS IN Lees Summit
Locating the ideal contractor can be often frustrating and can consume your time. Thank you for finding us. We're committed to quality concrete flooring projects that are on time and on budget.
CALL US NOW FROM ANY CITY IN Missouri
We specialize in stained stamped, epoxy and polished concrete floors. Proven local expertise in commercial and residential concrete flooring applications. Schedule Metrocrete to review your project and pricing options
BEAUTIFYING CONCRETE FINISHES
Revel in our broad collection of concrete flooring options like rich Epoxy Floor Coatings, radiant Polished Concrete, expert Concrete Resurfacing, and artistically applied decorative stains make for a beautiful floor.
Polished Concrete
Flooring
Concrete floors that are polished utilize the same grind and seal technique as epoxy flooring. But polishing it with gradually finer grit, smooths the cement into a shiny, semi shine or matte finish. The same look as polished concrete flooring can be a decorative concrete overlay, where the finish is more easily controlled and may better suit your timing.
Once mixed, self-leveling concrete must be applied quickly, and results in an attractive, flawless and refined surface like those found in showrooms, museums, galleries and wedding halls. Concrete overlays are being used extensively, and you'll also see them in shopping malls. Pigments can be utilized with polished concrete floors, in muted green and brown tones found in nature, and additionally in blues, reds and ochers. A whole rainbow of colors!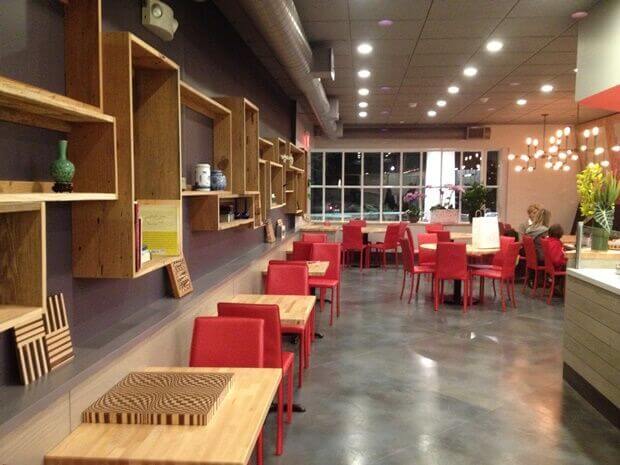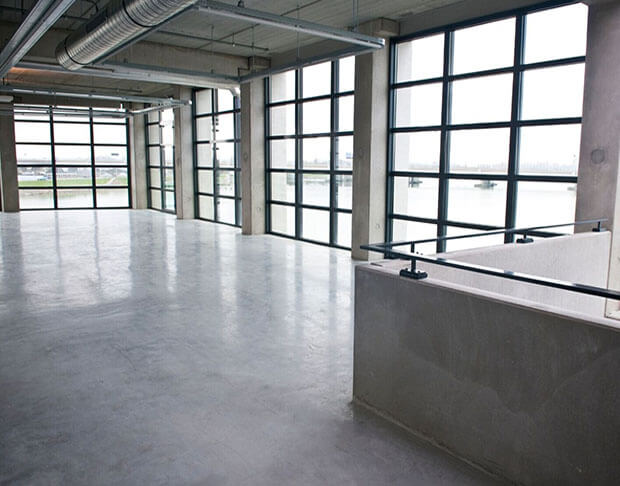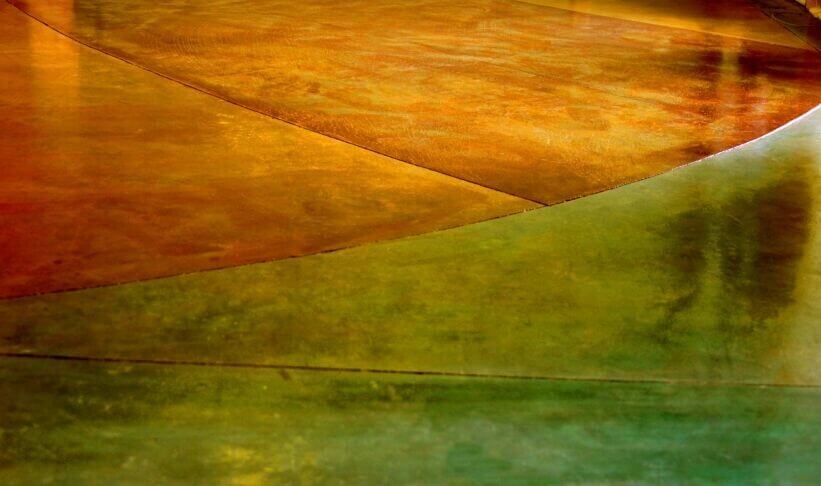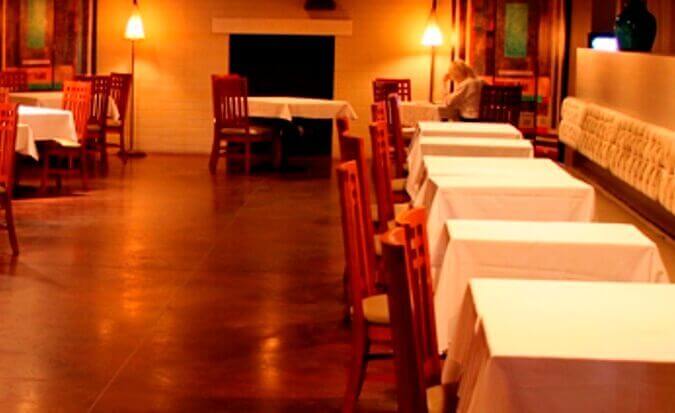 Stained Concrete 
Flooring
Staining concrete floors results in a beautiful, one of a kind flooring surface that is perfect for commercial and industrial applications as well as in retail and corporate offices and in restaurants. Choose from two types of staining systems to choose from; acid stains or concrete dyes. Each result in a distinctive look – it's all about the look. A leather like appearance can be achieved using dark, rich brown tones then, color stains or dyes are added for more visual appeal of the floor.
A large uninterrupted floor can be made more interesting with shallow cuts resulting in patterns of mosaics or borders or even brand logos. Afterwards more colors can be added. Coloring stains and dyes will beautify and concrete work like decorative overlays, polished concrete and grind and seal projects. Flooring specialists then layer on epoxy sealers or urethane coatings for added strength and beauty.
Find out more about stained concrete flooring….
Stamped Concrete
Flooring
Stamped Concrete enhances flooring both interior and exterior. Quite often, concrete stamping is done on newly set concrete, mainly on areas that would be used frequently like basement floors, kitchen and dining areas, and even hallways and main living areas. Outside, patios, driveways, walkways and decks are the most common.
Stamped concrete introduces an infinite array of colors in combination with textures. The talented expert uses saw cuts and dyes which can result in spectacular designs and a striking impression of the stamped concrete. Your choice of patterns in stamped concrete is almost endless. The selection of styles and patterns may be for example, slate, stone, brick, wood and even seamless granite. Including stamped concrete enhances the beauty and elegance to your home and property.
Read more about stamped concrete flooring….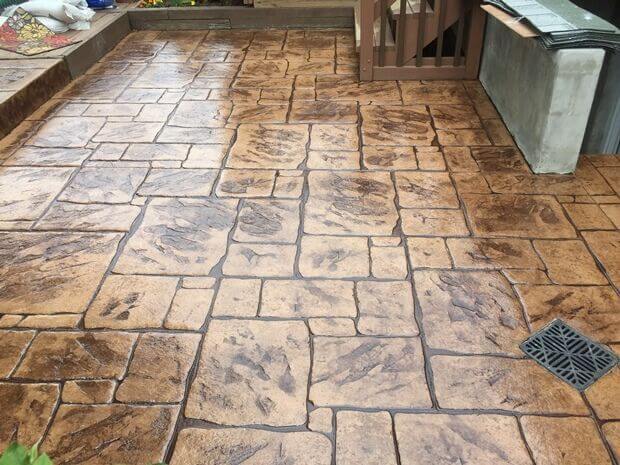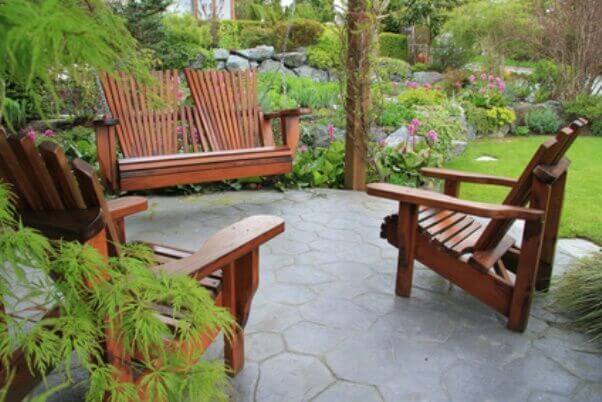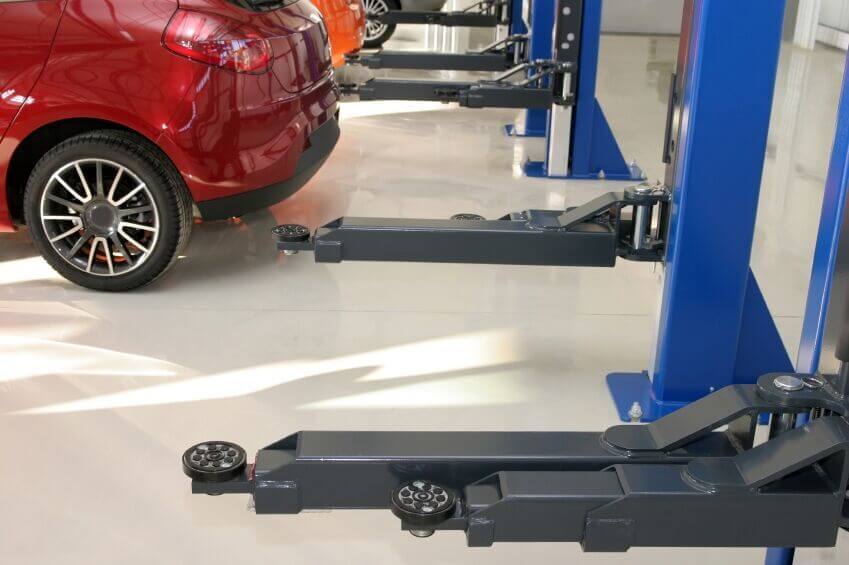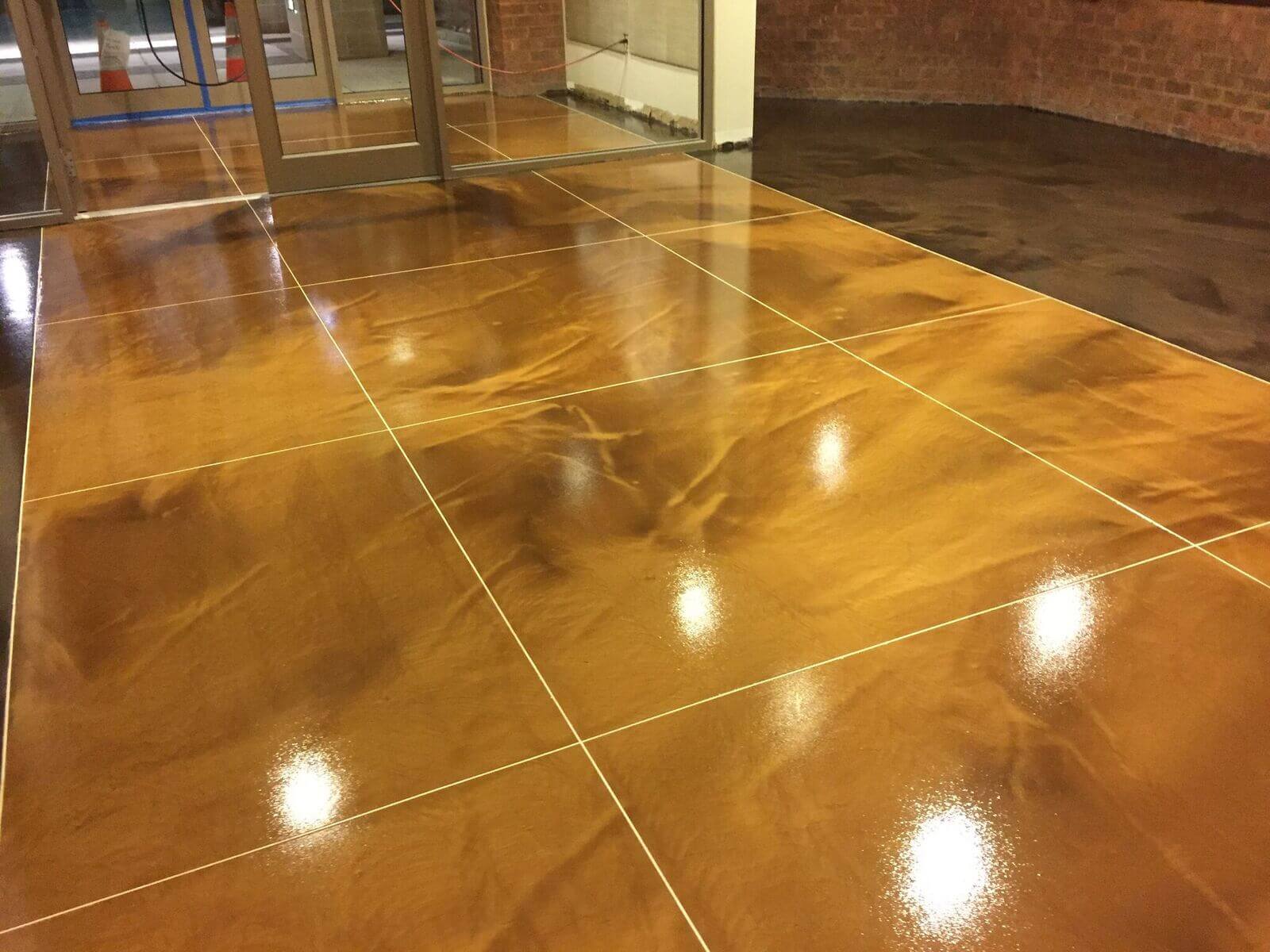 Epoxy floor covering varieties include coatings and paints, offering not just a beautiful floor, but practically impenetrable protection for concrete floors and walkways. Engineered for strength and elegance. Call us in Lees Summit. For an artistically pleasing flooring solution, explore the possibilities of color variations resulting from the use of embedded quartz or sand.
At Metrocrete, our Epoxy Floors have covered it all in Lees Summit. Including in food and beverage facilities, residential garages, basements, commercial kitchens, offices, warehouses, laboratories, medical offices and in many more locations. Engineered epoxy flooring solutions are comprised of engineered paint products and heavy-duty chemical resistant coatings. What we know as "epoxy" is a two part – resin and hardener – system, used with polyaspartics or urethanes as a final top coat. Sometimes with just clear epoxy.

Lee's Summit, MO
Jackson County: 64015, 64063, 64064, 64081, 64082, 64083, 64086, 64134, 64139, 64149
Save
Save
Save
Save
Save
Save
Save
Save
Save
Save
Save
Save
Save
Save
Save
States & Cities We Service

(click on state below to see cities)