Concrete & Epoxy Flooring
Experts


(502) 410-3368

Stained, stamped, epoxy or polished concrete floors - Call Us Today!

Discover how concrete & epoxy floors
can transform

 your home or business
We specialize in a wide range of concrete floor options like elegant Epoxy Floor Coatings, glossy Polished Concrete, as-new Concrete Resurfacing, and superbly applied decorative stains – for a stunning floor.
CONCRETE FLOOR COVERINGS IN Lexington
Finding the right contractors may be challenging and a lot of time can be wasted. But you're here now. We're committed to serving you with top quality concrete flooring products within your budget and timeline.
We are experienced specialists in polished, epoxy, stained stamped concrete floors. Local and experienced experts in commercial/residential concrete floors. Book in Metrocrete for a free quote to review your project!
We'll definitely exceed your installation timeline, budget constraints, as well as your craftsmanship and service expectations. We're pleased to make you this promise.
Stamped Concrete
Flooring
Stamped Concrete beautifies indoor and outdoor floors. Usually, it's applied over existing unattractive concrete, on interior floors or outdoor spaces like a beautiful raised front porch in stamped concrete to resemble a slate flooring, leading to the same or coordinating interior hall floor design.
Stamped concrete encompasses an unlimited choice of colors and levels of textures. The talented craftsman mixes an accent color or secondary color to form a texture to display an interesting design of your choice. Styles in stamped concrete combined with textures are vast. An option of styles will be presented of stamped concrete such as fractured slate or even natural stone such as Tuscany or Yucatan. By adding stamped concrete, it transforms your living space into a more luxurious environment.
Read more about stamped concrete flooring….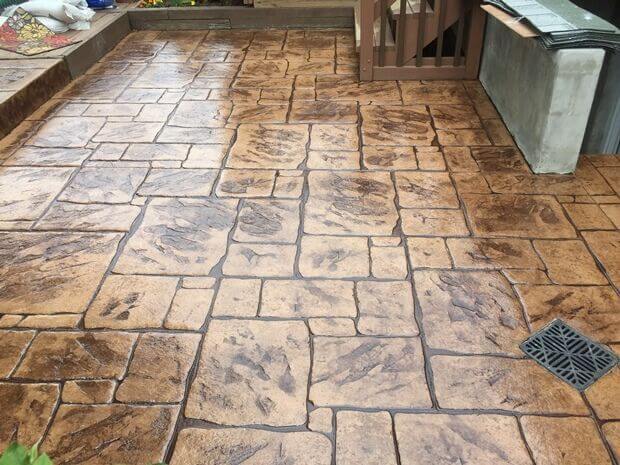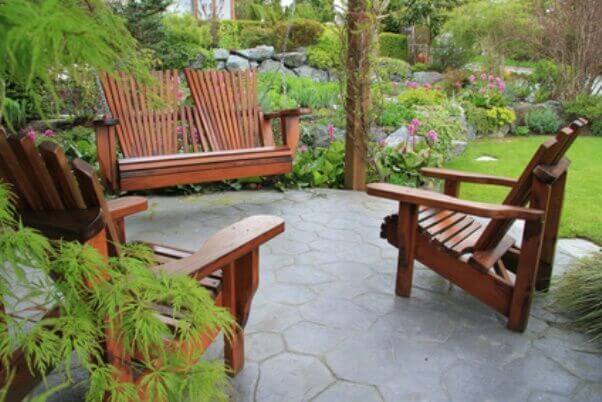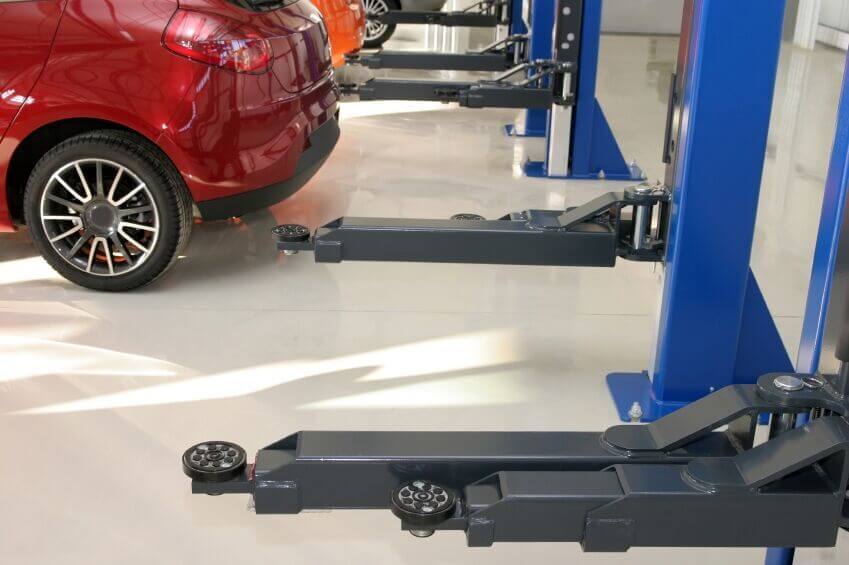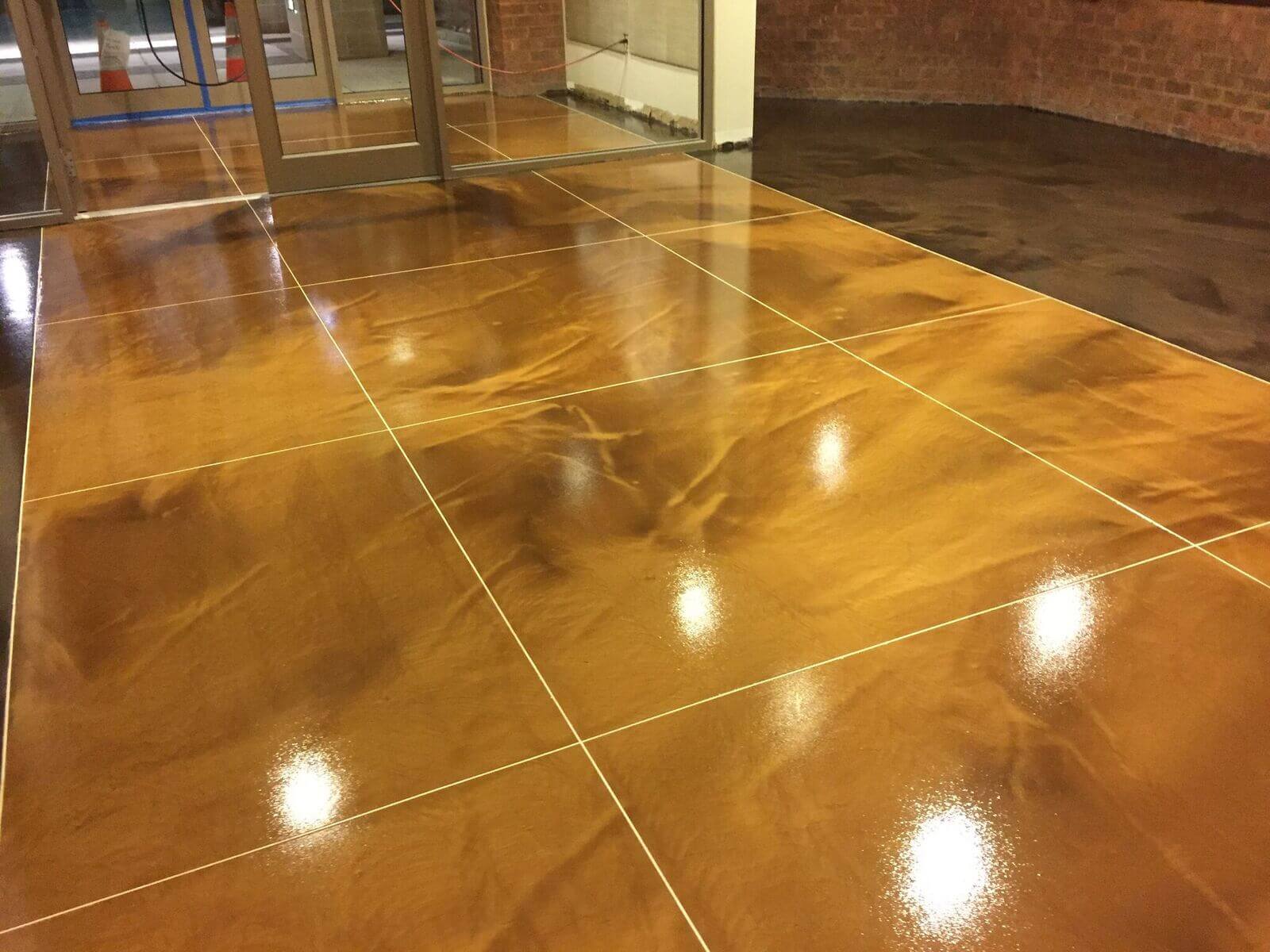 Epoxy floor coating options are either a coating or a paint, resulting in not just a decorative floor, but lasting protection of concrete substrates – in both interior and exterior applications. Just call, since we're in Lexington. You won't be disappointed. For a decorative and stylish – or dazzling – flooring solution, investigate the universe of visual treatments through adding sand, color or quartz to the wet coat.
At Metrocrete in Lexington, Epoxy Floors are our core business and our floors can be found in healthcare facilities, data centers, as basement or garage floors, loading docks, commercial kitchens and offices – just name a very few of the possible floor applications. Engineered epoxy flooring material options are made up of paint type products and thick and built up areas of chemical resistant coatings. Epoxy, composed of a resin and a hardener is generally combined with urethanes or polyaspartics as a finish coat, or finished with only clear coat epoxy.
Polished Concrete
Flooring
Concrete floors that are polished incorporate a similar grind and seal process as epoxies, except polishing the concrete literally smooths it so that once sealant is applied, it becomes a smooth glossy, matte or semi-gloss surface. Color pigments may be utilized with polished concrete floors, in muted green and brown shades found in nature, as well as in blues, reds and ochers.
A whole rainbow of colors! The same look as polished concrete flooring can be decorative concrete overlays, which have a more easily controlled finish in an application. The use of self-leveling concrete for this application, results in an exquisitely flawless surface area like those seen in banquet halls, showrooms and museums. Concrete overlays are being used extensively, and you'll also see them in shopping malls.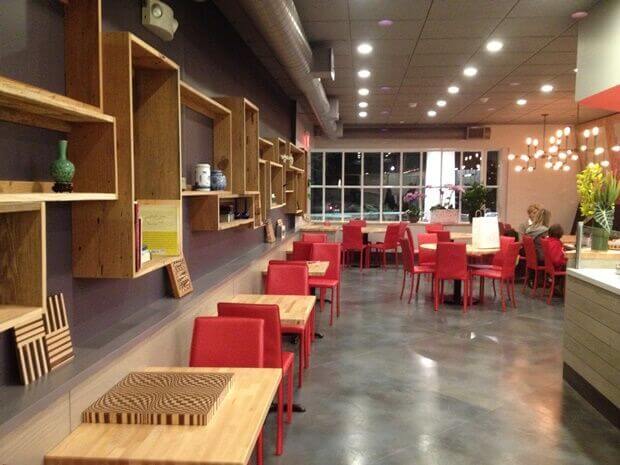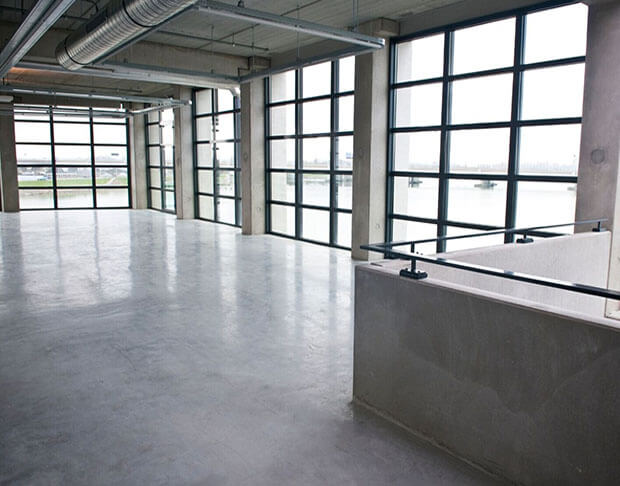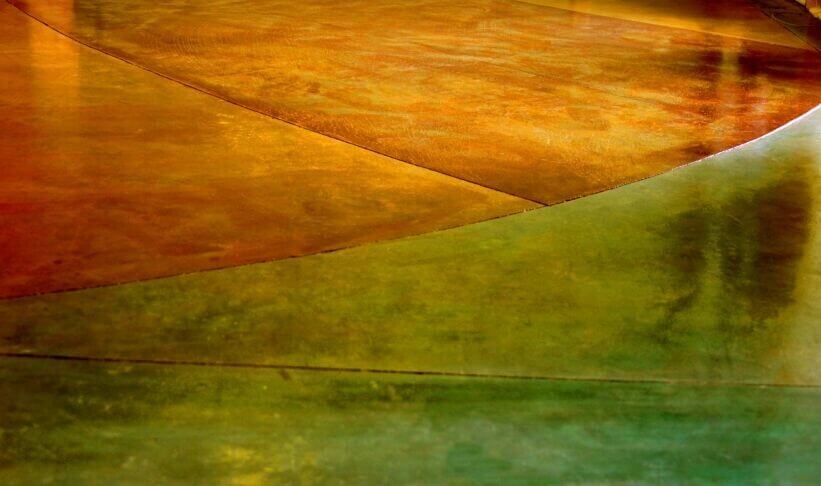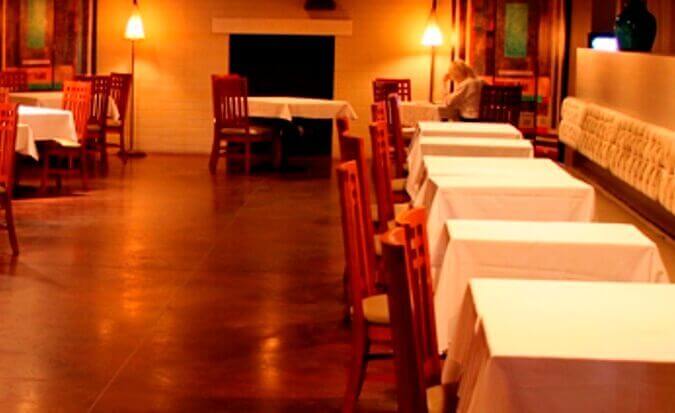 Stained Concrete 
Flooring
Stained concrete floors are versatile, low maintenance flooring that is becoming more mainstream for any residential or commercial application. Decision makers have two types of color applications; acid stain or concrete dyes. Each result in a low maintenance, yet attractive look you'll be impressed with. Designers will often want to achieve a leathery-like appearance to achieve a rich, upscale but earthy look.
Often stains or dyes can be introduced for additional possibilities. A large floor area can become more interesting with the application of any number of patterns in flowers, borders or even a brand logo. Then more colors can be added. Colorization with stains and dyes enhance any concrete work – decorative overlays, polished concrete and grind and seal work. Experts then layer on epoxy or urethane sealers for added strength and protection.
Find out more about stained concrete flooring….

Lexington, KY
Fayette County: 40502, 40503, 40504, 40505, 40507, 40508, 40509, 40510, 40511, 40513, 40514, 40515, 40516, 40517, 40506, 40526, 40536, 40546, 40550, 40598, 40512, 40522, 40523, 40524, 40533, 40544, 40555, 40574, 40575, 40576, 40577, 40578, 40579, 40580, 40581, 40582, 40583, 40588, 40591
Save
Save
Save
Save
Save
Save
Save
Save
Save
Save
Save
Save
Save
Save
Save
States & Cities We Service

(click on state below to see cities)