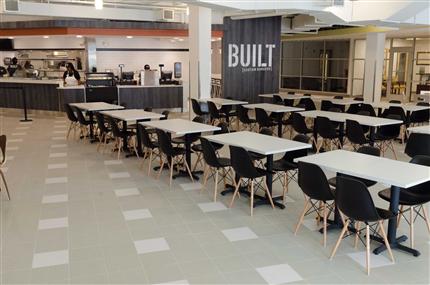 University of Miami students discovered renovated dining facilities at the Coral Gables campus when they returned to school in the fall of 2014. The university hired construction experts to renovate the Whitten University Center and the Hecht-Stanford Dining Hall during summer break.
Professional Surface Installations or PSI provided concrete surface prep and moisture mitigation expertise to the institutional project. Read on to learn more about the process.
Concrete Vapor Barrier Systems for Educational Institutions & Dining Facilities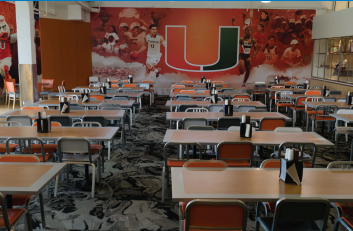 Project: University Of Miami Whitten University Center & Hecht-Stanford Cafeteria
Project Type: University Dining Facilities – Educational Institution
Location: 1350 Miller Avenue, Coral Gables, FL 33124. Miami-Dade County
Contractor: Terstep
Flooring Contractor: Certified Floorcovering Services, Inc.
Surface Prep Contractor: PSI Inc. Chicago
Project Size: 35,000 sq. ft.
Vapor Barrier Systems: MAPEI
Flooring Project: The University of Miami hired architectural and construction professionals to design and renovate the Dining Facilities at Hecht-Stanford Dining Hall.
---
Professional Surface Installations (PSI Inc.) provided concrete surface preparation services along with moisture mitigation using MAPEI products provided by Specified Surfaces Inc. PSI's selection of exotic woods, ceramic tile, carpet tile, glass stone and athletic rubber flooring adorn the flooring and walls within the food court and cafeteria.
As concrete moisture mitigation experts, PSI was also contracted to measure water vapor emissions in the concrete substrates and reduce high humidity readings in order to prepare the concrete for floor covering installation.
Concrete Moisture Control Products by Mapei:
Planiseal MVR – High performance epoxy moisture barrier for concrete substrates. Used for concrete slabs that exhibit high moisture vapor emission rates. Penetrates into substrate while at the same time creating a solid layer to reduce moisture transmission.
Primer T – General purpose primer for self-leveling underlayments. Enhances adhesion on non-absorbent surfaces such as tile and epoxy moisture barriers. Also works for absorbent surfaces and suitable for multiple substrates. Low odor and easy to apply.
Novoplan 2 Plus – High strength & quick cure self-leveling cement underlayment for interior concrete floors.
Scope of Moisture Mitigation Work:
1. Surface preparation – clean, grind & repair concrete surface.
2. Planiseal VS Application – PSI coated floors with epoxy coating specially designed to act as moisture vapor barrier for concrete flooring.
3. Cap Plainseal VS – PSI leveled the floors before installation of floor coverings by prepping floor with Primer T.
4. Apply self-leveling underlayment – Next, the moisture mitigation experts pumped Novoplan 2 Plus as an underlayment.
Professional Surface Installations was able to assist the contracting team with providing a complete and guaranteed moisture mitigation system for the University of Miami. To learn more about their services, give PSI a call or send an email via our contact form.
You may also learn more about concrete moisture mitigation for the University of Miami institutional project by visiting the Mapei reference for the University of Miami Dining Facility project.